by Elizabeth Goldsmith (Regular Contributor)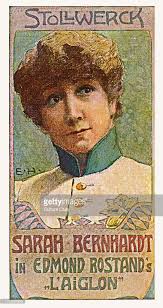 In 1916, Sarah Bernhardt made a tour of the United States. She was probably the most famous actress in the world by this time. But she was 71, and not in good health. In 1915 she had suffered a gangrenous infection after a stage accident which had almost killed her and resulted in the amputation of her left leg. Any other diva would have declared an end to her career after such an episode, but Bernhardt could not bear to abandon the theatre. And her audiences loved her more than ever. The voyage to America was triumphant. In New York she performed her famous cross-dressed role of Napoleon Bonaparte's son in L'Aiglon, by Edmond Rostand. In Brooklyn she appeared before a crowd of 50,000 to speak in support of Franco-American cooperation in the war effort.
But there had been another reason for her trip. 'The Divine Sarah' was fascinated with a fellow artist who was as famous as she, the great magician Harry Houdini.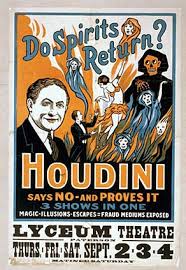 Houdini's tricks were so spectacular that spectators found it difficult to believe in their artifice. Although he himself never claimed true magical powers (and in fact throughout his career he exposed magicians who did make such claims), there were many who thought he had occult powers. Arthur Conan Doyle, creator of the eminently rational Sherlock Holmes, was one of those who would persist in this belief long after Houdini's death. It was an age when it was not unusual to hear of prominent intellectuals and political figures gathering soberly around a seance table.
Bernhardt was given to such beliefs. While on her American tour, she attended some of Houdini's outdoor escape performances in Boston and New York. The experience confirmed her faith in his special powers. As for Houdini, he was flattered that the great actress admired him and he readily accepted her return invitation to watch her on stage, with a private meeting to follow.
But her conversation took him by surprise. Looking at him earnestly, she asked if he would consider applying his magic to the task of regenerating her lost leg. "She honestly thought I was superhuman," he would later report to a journalist.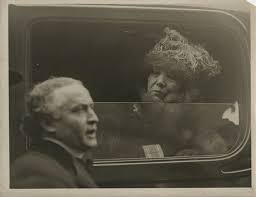 One of the most poignant photographs of Sarah Bernhardt is a snapshot that was taken immediately following her interview with the great illusionist. Houdini is in profile, standing outside the car just after saying goodbye to the actress. Through the window we see Bernhardt's face looking at him intently, wearing an expression of profound sadness.
Photo of Houdini and Bernhardt courtesy of the Harry Ransom Center, Austin TX