By Adrienne Mayor (Regular Contributor)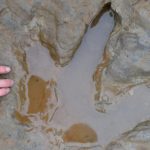 A fearsome dragon was featured in medieval Scandinavian and Germanic legends about the hero Sigurd/Siegfried. The story is the centerpiece in the epic saga Niebelungenlied, in which the Siegfried kills Fafnir, who had been transformed into a hideous dragon by a powerful curse.
In the legend, Fafnir guarded a hoard of golden treasure. The dragon was so huge that the very ground shook when he walked. At Drachenfels ("Dragon Rock"), Konigswinter on the Rhine, a large statue of a typical dragon lurks near the ruins of a castle built on the summit of the hill in about 1150. A cave below was believed to be Fafnir's lair.
According to the story, the hero Siegfried tracked the Dragon to his lair, by following a trail of the dragon's enormous footprints sunk deep in the earth.
Notably, conspicuous fossil trackways of two types of massive dinosaurs are found in Germany. In 1941, the German paleontologist H. Kirchner speculated that observations of Triassic dinosaur tracks in sandstone near Siegfriedsburg in the Rhine Valley of western Germany might have been the inspiration for the legend about the dragon Fafnir's footprints.
Since then, more dinosaur tracks have been analyzed by paleontologists in northern Europe. Immense fossilized footprints of a theropod dinosaur were recently found near Muenchehagen, Germany. Another long trackway left by a massive 30-ton Sauropod from 140 million years ago is embedded in a quarry at Rehburg-Loccum, near Hannover, Germany. Their magnitude–4 feet wide and 17 inches deep–would certainly lead anyone in antiquity or the Middle Ages to visualize a legendary dragon of dreadful size and shape.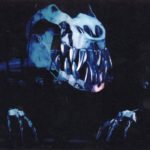 Wagner's famous Opera "Ring of the Neibelung" features Siegfried fighting a medieval-style dragon on stage. But in 2005, for the first time in opera history, the Lyric Opera of Chicago portrayed Fafnir as a frightening fossil monster, a kind of fantasy dinosaur skeleton. This was a way of acknowledging the idea that discoveries of remarkable fossils may have influenced images and tales of dragons in pre-Darwinian societies.
Adrien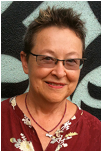 ne Mayor is a Research Scholar in Classics and History of Sc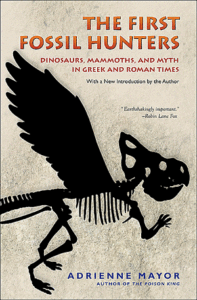 ience, Stanford University, is the author of The First Fossil Hunters: Dinosaurs, Mammoths, and Myths in Greek and Roman Times (2011), Fossil Legends of the First Americans (2005), and The Poison King: The Life and Legend of Mithradates, and The Amazons.