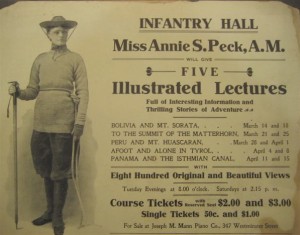 By Elizabeth C. Goldsmith (Regular Contributor)
On this day 94 years ago, the 19th amendment to the US Constitution was ratified, granting American women the right to vote. The women who had fought so long to reach this goal had used many different tactics in their struggle, but perhaps the most effective, it was recognized from the beginning, involved hitting the road. Voting meant freedom, and the first step to freedom was simply getting out of the house.
Risk as inspiration
From the beginning of the suffrage movement, women who were famous for having dared to lead lives of travel and adventure used their own notoriety to support women's rights.
Annie Smith Peck (1850-1935), a classics scholar who took up high-risk mountain climbing at age 44, caught the public's attention with her ascents of the highest mountains in Europe and South America. In 1909 she climbed Mount Coropuna in Peru and planted a flag on the summit that read 'Votes for women'!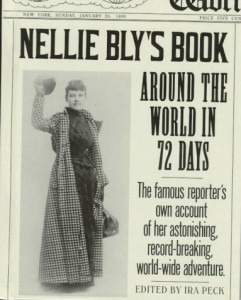 Journalist Nellie Bly, famous for her undercover exposes of mistreated women in mental hospitals and factories, decided in 1889 to undertake a trip around the world in less than the fictional Phileas Fogg's 80 days. She made it in 72 days, 5 hours, and 11 minutes. Later, she covered the Women's Suffrage parade of 1913, an event that came at the end of a long women's march across the state of New York.. She wrote, presciently, that she thought it would be 1920 before American women received the vote.
Taking the Wheel
The National Women's Suffrage Association recognized the impact that could be achieved by the spectacle of women traveling on their own.
In the early era of the automobile the sight of women behind the wheel was an added bonus. Supporters of a women's suffrage amendment drove across their states collecting signatures. Photographs of women changing tires and attending to their frequent engine troubles easily made their way into the newspapers.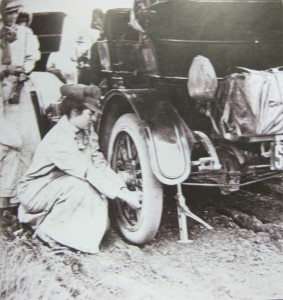 In 1916, the NWSA sponsored a 10,000-mile cross-country trip by two activist roadsters, Nell Richardson and Alice Burke, who stopped to give speeches from their car along the way. Their yellow Saxon roadster, dubbed "The Golden Flier", became a symbol of the suffrage movement.
They were all lampooned mercilessly, but they drew crowds wherever they stopped. There are two cartoons from the era that I particularly like, both of them conveying, perhaps unintentionally, the sense that victory for the woman's cause was inevitable. One shows a group of young women driving a bulldozer marked "progress"over a pile of blocks marked "opposition". The other shows an alarmed old gentleman at a women's rally. He has just recognized the speaker as his daughter.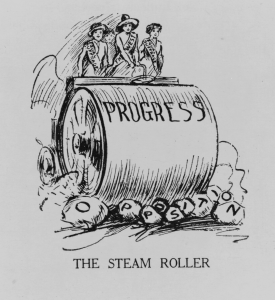 For further reading, see the National Archives blog, "Traveling for Suffrage."