by Adrienne Mayor (Regular Contributor)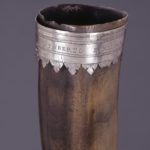 How did the venerated medieval saint Cuthbert (ca. 634-687) of northern England happen to possess not one but two claws of a Griffin, the fabulous lion-bodied, eagle-beaked creature of classical Greek legend?
In fact the saint owned a pair of Griffin eggs as well. These relics were listed in the inventory of the saint's shrine of 1383. These Griffin claws and eggs later ended up in the Cabinet of Curiosities of Sir Robert Cotton (1571-1631). At least one of the claws can now be admired in the British Museum, along with other Griffin-related relics.
St Cuthbert, one of the most influential Celtic holy men of the medieval era traveled, preached, and worked miracles in northern England and southeastern Scotland. He lived as a hermit on a rocky island near Lindesfarne monastery. He died soon after becoming Bishop of Lindesfarne. His body was buried there in an oak coffin but during the violent Viking invasions of the 800s and 900s, the saint's corpse traveled around the land, disinterred and reburied by monks in several different coffins and sarcophagi. Cuthbert's remains were laid to rest in Durham in about 882, then removed to Ripon in 995; he was finally reburied in 1104 in Durham Cathedral. His coffin was last opened in 1827. Over the years a cult grew up around his shrine, and Saint Cuthbert accumulated many holy relics of gold, ivory and gems, fine embroidered vestments of Byzantine silk, precious books, exotic artifacts, and costly treasures.
Among Cuthbert's relics were two "Gryphon claws" and two "Gryphon eggs." So-called claws and eggs of the Griffin, the fabulous legendary creature with the body of a lion and the head and beak of an eagle, were prized in the Middle Ages. Such relics were obtained by pilgrims to the Holy Land and brought back to Europe during the Crusades. The claws were prized as drinking cups because they were believed to detect or even neutralize poisons. The magical claws were usually made from ibex or buffalo horn (Griffin "eggs" were often ostrich eggs, or real fossilized dinosaur eggs).
How did St Cuthbert's shrine come by such exotic treasures? Alive and then as a corpse, St Cuthbert was certainly well-traveled but he never left the British Isles. The Griffin claws listed in the inventory of his relics in 1383 were likely donated to his shrine in Durham by wealthy followers who obtained them, along with the eggs, during the Crusades of the 11th to 14th centuries. A similar Griffin claw from the Holy Land was displayed in Braunschweig Cathedral, donated by Henry the Lion in the 12th century.
About the author: A Research Scholar in Classics and History of Science, Stanford University. Adrienne Mayor is the author of The First Fossil Hunters, The Poison King: Mithradates, Rome's Deadliest Enemy, and The Amazons: Lives and Legends of Warrior Women across the Ancient World.