By Kelly O'Connor McNees
My historical novel, The Lost Summer of Louisa May Alcott, imagines a summer in Louisa's life when she was just 22 and on the precipice of a remarkable life. In trying to understand Louisa, I investigated the books she loved and the people she admired. That's how I learned about Fanny Kemble.
Fanny Kemble was born to a family that dominated the British stage for generations. She too was an actress a young age, and later met and married Pierce Butler while performing in the U.S. His family's money came from cotton and rice plantations in Georgia. When he took Fanny home to the plantation, she was appalled by the realities of slavery. As a Brit, she had long opposed the institution, but seeing it with her own eyes hardened her resolve. To her husband's great humiliation, she began to write about what she saw. The marriage dissolved, and later she published Journal of A Residence on a Georgian Plantation in 1838-1839. It caused quite a stir.
Abolitionists like Louisa's father Bronson admired Fanny for her willingness to speak out against slavery, even as doing so disrupted her comfortable life. Louisa too opposed slavery, of course, but I speculate that she also admired and envied Fanny's independence. The actress took back her maiden name and continued doing the work she loved, on her own terms. She enjoyed remarkable success with American audiences. It's hard not to see Fanny Kemble's life as a model for the life Louisa herself would make later on: a woman making her own way in the world with an uncompromising vision.
About the author: The Lost Summer of Louisa May Alcott is now available in paperback. The Washington Post says that "Devotees of Little Women will flock to this story with pleasure." Kelly O'Connor McNees lives in Chicago and blogs at

http://kellyoconnormcnees.com

.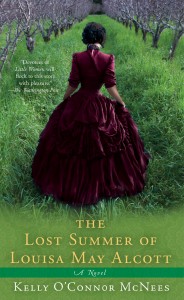 Giveaway is closed.
Would you like an email notification of other drawings? Sign up for our weekly digest in the sidebar –>.