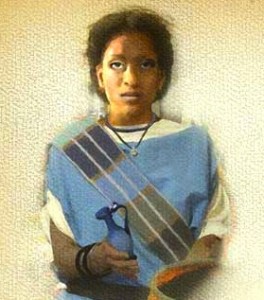 Sometimes I miss Rome so much I think I might die.
They found her body in York. Her bones show she died young, aged around 19. She was probably beautiful, for her skull is symmetrical and her teeth were good. Isotopes (trace elements) in her molars prove she came from a hot country, almost certainly Africa.
This mixed-race woman died over 1500 years ago in Roman Britain, and was first unearthed in York a century ago. Recently, archaeologists at the University of Reading, UK have been examining her all over again using the latest advances in forensic science.
As well as studying her bones, they have been scrutinizing her method of burial and grave goods.
She was buried in a stone sarcophagus, a mark of wealth.
Another clue to her wealth was the beautiful blue glass jug found with her. A futher clue to her wealth (and beauty?) was a mirror found near her skeleton. And not just any mirror, but a glass mirror, exceeding rare for Roman times.
She also had jewelery in the tomb: a locket (or her childhood bulla?), earrings and a necklace with beads. But more than all of these, she must have loved her bangles. She had one made of "magical" jet, one made of blue glass, and some made of exotic elephant tooth: ivory.
For this reason, the archaeologists nicknamed her Ivory Bangle Lady.
Not only was she of mixed-race, beautiful and rich, but she was certainly literate and probably a Christian. We know this from a beautiful piece of bone with the words: SOROR AVE VIVAS IN DEO "Greetings, sister! May you live in God." Or does it say, "Farewell, sister! May you live in god."? The Latin word ave can mean "hello" or "goodbye".
Were the bone letters part of a box that didn't survive? Did she own that box when she was alive? Or only after her death?
What was in her blue glass jar? Wine? Perfume? Honeyed milk?
And what was she doing in Eboracum – York – so far from North Africa or Rome?
As the author of 20 history-mystery books set in the Roman period, I was invited to write stories about some of the bodies from Roman Britain. I had to use the clues of bone evidence and grave goods and then add my imagination and knowledge of Ancient Rome.
Now, thanks to an exciting new website, you can do what I did. Romans Revealed, geared at school children aged 8+, allows you to examine the graves and bones of the Ivory Bangle Lady and three other individuals found in Roman Britain in the 3rd and 4th centuries CE. You can hear modern scientists and archaeologists (like Dr. Hella Eckhardt from the University of Reading) discuss the significance of the grave goods and isotope results. Best of all, you can then make up your own stories about the lives and deaths of the four individuals chosen: Brucco, Savariana, Piscarius and Julia Tertia, the Ivory Bangle Lady.
Caroline Lawrence is the author of the best-selling Roman Mysteries series for kids. She and archaeologist Dr. Hella Eckhardt will both be present at the Museum of London on Thursday 25th of April to help launch the Romans Revealed website. Romans Revealed is supported by the Runnymede Trust and generously funded by the Arts & Humanities Research Council and the University of Reading. A live launch will be hosted by the Museum of London and free to watch from 1pm GMT. Schools and individuals are invited to participate! Find out how by contacting elearning@museumoflondon.org.uk