Interview with Crystal King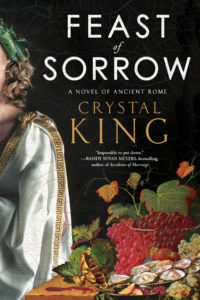 How did you come across this story? What inspired you to write about it?
I came across an anecdote about the ancient Roman gourmand, Apicius, in a book that I was reading, Feast by Roy Strong. The passage described how Apicius died and I found it to be so fascinating that I thought I needed to write the story of how it came to pass.
What were your main sources for your research? How did you organize everything? (That is, got any tips for fellow writers?)
The main source for me was the ancient cookbook, Apicius de re Coquinaria, translated by Sally Grainger. I also read as much as I could from texts of that time, Seneca, Tacitus, Pliny and even Virgil. Then came the history books on food, architecture, politics, slavery, etc. I organized everything using Evernote and I did most of my writing in Scrivener and Google Docs.
What were the biggest challenges you faced either in the research, the writing, or structuring the plot?
In the beginning, I really struggled with determining whose story it ultimately was. It's a tale of Apicius but told by his cook, Thrasius. I rewrote the first 15 chapters three times from different points of view before I finally figured it out.
Every writer has to leave something on the cutting floor. What's on yours? 
I chopped a lot out of Feast of Sorrow because it was so long and when I was looking for agents no one wanted to touch it for that reason. But there is a scene that I was particularly fond of that I am still sad it was left behind–a bath scene in which Apicius's body slave, Sotas, is at the baths and hears about elephants, an animal unknown to him, at the Colosseum for the first time. There was just something curious and charming for me about that scene. Also, on the Debutante Ball, I share another deleted scene that I'm very fond of, a scene from Apicius's point of view in which he is buying Thrasius a set of knives. 
Tag you're it! What historical fiction author do you most admire? Why?
This is so difficult! There are far too many for me to name (Margaret George, Sarah Dunant, Jenna Blum, Philippa Gregory, Anthony Doerr among many others). But if I have to really narrow it down, it's an author that I know, Anjali Mitter Duva, who is one of my writing group partners and my dear friend. She has a beautiful novel, Faint Promise of Rain, set in medieval India that I wish the whole world could read. I admire her because she is so driven, because she is a beautiful writer, because she is the master of description, because she finds time to write when her world is chaos, and because she always inspires me to do more and to do better.
Crystal King is a writer, culinary enthusiast, and marketing expert. Her writing is fueled by a love of history and an obsession with the food, language, and culture of Italy. She has taught writing and social media at GrubStreet and several universities including Harvard Extension School and Boston University. Crystal received her master's degree in critical and creative thinking from University of Massachusetts Boston. She lives in the US with her husband and two cats, Nero and Merlin. She is the author of Feast of Sorrow.