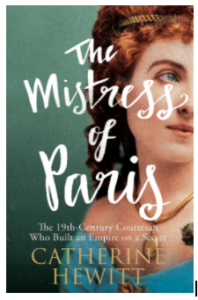 By Catherine Hewitt (Guest Contributor)
Comtesse Valtesse de la Bigne was one of 19th-century Paris's most ambitious and successful courtesans. 
Her thick red hair, pale complexion and enormous blue eyes gave her an unconventional, Pre-Raphaelite appearance which left the Parisian public spellbound. But Valtesse was also disarmingly clever. She was well-read, an accomplished (and self-taught) painter, pianist and novelist, and the author of political pamphlets. Her sharp wit and cool demeanour were legendary, while her connections with painters earned her the nickname 'The Union of Artists'. She was painted by Édouard Manet and she amassed an enviable collection of paintings, antiques and exquisite objets d'art. She mentored – and had an affair with – the infamous courtesan Liane de Pougy, while her rumoured affairs with Napoleon III and the future king of England, Edward VII, kept gossip columns full. She became embroiled in a scandalous court case, a political intrigue and a horrific murder.
But by far her most famous attribute was her throne-like bed, which Émile Zola used as the model for the ornate piece of furniture commissioned by his anti-heroine in his scandalous novel Nana (1880).
Valtesse was born Louise Delabigne, and raised on one of the most squalid backstreets of Paris. Clawing her way up from the lowest social caste, moving from one rich suitor to the next, she rose to the very top of 19th-century Parisian society. And to mark that ascent, she wanted a courtesan's throne – a bed.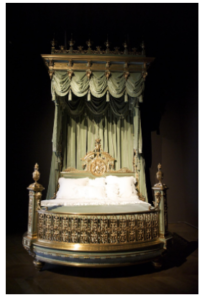 Valtesse commissioned furniture designer Édouard Lièvre to create a huge Renaissance-style bed. It was modelled on the ceremonial beds used in the mediaeval period by eminent figures (often royalty) when they received visitors to their bedroom. The bed was made of beech and gilt bronze and was over 4m high. Its bedposts supported a large, rectangular canopy, which hovered nearly 3m above the head of the bed, atop of which sat a dome covered in luxurious blue fabric. The canopy was decorated with golden vases and intricate floral trellis work, amongst which the letter 'V' could be seen at regular intervals. All around the top of the bed, fauns' faces smiled down at visitors, while generous swathes of blue velvet cascaded downwards to form magnificent curtains. A circular plaque on the bed head displayed a pair of chubby golden cupids standing either side of Valtesse's coat of arms. The bed's circular footboard – a tantalising threshold between Valtesse and her suitors – was decorated with a chain of foliage, while cherubs, fauns and flaming perfume burners completed the decoration on the bedposts. At fifty thousand francs (a third of the price of a mansion at the time), the expense shocked even Valtesse's friends.
Today, visitors can still marvel at the gilt bronze bed at the Musée des Arts décoratifs, in Paris – which is more than the great Alexandre Dumas fils was able to do. When the writer asked to see Valtesse's bedroom, her reply was quick:
'That, dear master, no! You could not possibly afford it!'
Catherine Hewitt's academic career began with a passion for 19th-century French art, literature and social history. Having been awarded a first-class honours degree in BA French from Royal Holloway, University of London, she went on to attend the prestigious Courtauld Institute of Art where she took a Masters in the History of 19th-Century French Art and was awarded a distinction. In 2012, she completed her PhD on The Formation of the Family in 19th-Century French Literature and Art, with joint supervision from Royal Holloway and the Courtauld Institute. Throughout her academic career, she has regularly presented papers at conferences, published work in academic journals and was awarded numerous university prizes.
Catherine lives in a village in Surrey, UK. When she is not writing, she can be found helping restore her family's house in the middle of rural France, cooking, reading and enjoying country walks with her little black cockerpoo, Alfie.
Don't miss these interesting posts on Wonders & Marvels related to art, women, and/or France: Cultural Revolution at the Louvre, Chiomara – A Celtic Warrior Woman?, & Fashion as Resistance in WWII France.