By Aaron Freundschuh (Guest Contributor)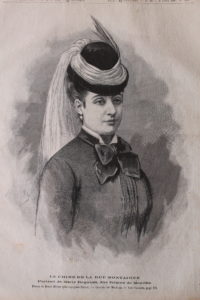 Until the night of her murder in a lavish apartment just off the Champs-Elysées, Madame Régine de Montille had taken pains to avoid the demise of her less fortunate colleagues and friends in the demimonde. As she was well aware, the 1870s and 1880s saw prostitutes murdered with jarring frequency in Paris, capital of the nineteenth-century sex trade.  Unlike the era's famous courtesans, who included luminaries such as Sarah Bernhardt and Marguerite Durand, Madame de Montille steadfastly avoided the public eye, thereby sparing herself the burdens of risk and resentment.
Scorn was for prostitutes of all stations a matter of course, likewise the scourge of caricature that rendered the sex worker a central figure of contemporary fiction and a durable muse of modernist art. On a more quotidian basis, their male clients presented the single greatest menace: they carried debilitating diseases and could turn violent or become possessive—or just refuse to pay for a pass, safe in the knowledge that sex workers had no recourse to the law. In fact, a call to the police was a courtesan's act of last resort, since the officers of the vice squad were notoriously abusive, arbitrary, and broadly exploitative in their approach. For courtesans who ran afoul of a powerful client or crooked vice cop, the whiff of public scandal could lead to summary deportation—robust demand for foreign and "exotic" prostitutes encouraged trafficking through French ports—or imprisonment. Newspaper editors knew that social ostracism made good copy; the press gleefully traced the descent of a kept woman into addiction, impoverishment, and an early grave.
Madame de Montille: a high class prostitute
Madame de Montille (née Marie Regnault) was nigh on 40 when she died, an uncommonly prosperous career having whisked her from provincial poverty to the high life of the capital's tony districts. In two decades she amassed the kind of wealth most Frenchmen could never attain, and she did it without so much as a brush with the law. Granted, the vice squad snooped on her for a time during the 1870s.  They opened up a file and kept irregular tabs. Yet administrative knowledge of her, stored in the "secret archives" of the Paris police prefecture, remained scant. This was because she observed the two most important rules in high-class prostitution: find powerful protectors, and be discreet about it. By the end of her career Montille's protectors issued from the upper echelons of the military and the business world, though fate could just as easily have made them politicians, policemen, or impresarios.  What mattered was power, specifically an influence on the police bureaucracy, which oversaw the enormous shadow economy in paid sex (prostitution was technically illegal and at the same time loosely regulated).
Madame de Montille had a sister who was also a demimondaine. Together, the two women pooled risk and resources from the moment they departed their Burgundy hometown.  They installed themselves near the Gare Saint-Lazare, a newly constructed area often depicted in Impressionist painting. They tricked in cozy, high-end brothels around the Grands Boulevards. Madame de Montille made shrewd purchases of Salon art and expensive jewelry, ensuring the long-term interest of elite clients who were willing to pay a premium for cultured companions. She acquired an expansive collection of literary works. Without a doubt, her crowning achievement was to ensconce herself in the rue Montaigne, an elite enclave in the eighth arrondissement. (Her apartment had been previously occupied by an Admiral of the French Navy.) In her spare time she enjoyed embroidery, a lifelong passion that suited her retiring disposition. She was well-appreciated by an exclusive group of clients; she had no known addictions, no debt, and no enemies.
An unfortunate encounter
It was therefore difficult to conceive that Madame de Montille could commit the gross error in judgment that precipitated her death on March 16, 1887. That evening, she admitted her killer into the apartment and, according to the coroner's report, had intercourse with him. Her body was discovered, along with that of her live-in servant and the latter's young daughter, shortly before noon the next day.
The murders in the rue Montaigne were all the more puzzling to police given Madame de Montille's obsessiveness about matters of security, about which much was said. She had lately installed extra locks on her doors, and she kept almost all of her jewelry, cash and investments—a collection worth a considerable fortune—in an impenetrable safe in her boudoir. The faithfulness of her personal staff was never in question. For many years she had employed the same private laundress; she lodged her private chef in a small apartment upstairs. Annette, her live-in servant, had been a childhood friend. The concierge and his wife, who in fact lived downstairs, had long been complicit in her business.
A piece in the puzzle of a dramatic investigation
Aside from the material clues found at the crime scene, there were nonetheless hints of a personal crisis. The tone of Madame de Montille's recent diary writings was consonant with depression and a growing sense of helplessness. There had been a broken love story, a newfound recklessness. According to the concierge's wife, there were new men—that is, not the usual protectors—calling on her of late.  One of these, a smallish fellow with brown hair, appeared suspiciously outclassed.
When the Paris police fanned out in search of this man they couldn't have had the faintest idea that they were embarking on the first global murder investigation. Within weeks the prosecutor's thick dossier would contain evidence from Egypt and the eastern Mediterranean, Afghanistan, India, Italy, Monte Carlo, and New York City—all the requisite pieces for a courtroom drama that no one would soon forget.

Aaron Freundschuh's recently published book is, The Courtesan and the Gigolo:  The Murders in the Rue Montaigne and the Dark Side of Empire in Nineteenth-Century Paris (Stanford University Press, 2017).