by Elizabeth C. Goldsmith (Regular Contributor)
Among the many powerful ministers of state who served the French throne, François le Tellier, Marquis de Louvois was one of the most impressive for his effectiveness, perseverance, and ambition. Minister of War under Louis XIV, he greatly expanded the size of the king's standing army. Under Louvois, the state's capacity to control its subjects was significantly enhanced.
He also oversaw the development of a network of roads traversing France, and tightened state control of the newly formed postal system. Under his supervision, the state postal system introduced a scheduled system of public transportation. Individual, paying travelers could ride in the postal coach or rent a postal horse.
On a personal level, Louvois was a man whose demands were not easily refused. He was feared for his severity and discipline. Once, he had two of his own sons imprisoned for insubordination. But in an episode that is rarely mentioned in descriptions of his life, he found himself spurned by a clever young woman who showed him how some of his newly designed systems for controlling the king's subjects could be used instead to enhance their freedom.
Marie-Sidonie de Lenoncourt, the Marquise de Courcelles, had been married at age 16 and was unhappy in her marriage. In 1668 she was 18 when she met the 27-year-old Louvois who was basking in his rapid rise to power. He had just been put in charge of developing the transportation and communication systems in Franc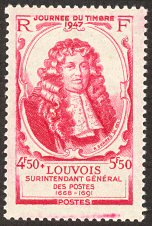 e. He thought that seducing the young Marquise would be an easy matter. But to his chagrin, she not only refused him but she chose another lover. Soon her husband discovered the betrayal and arranged to have her incarcerated for adultery, in a convent in Paris that served also as a prison for wayward wives.
Louvois could have used his influence to get her out, but he did not. Marie-Sidonie then managed to escape by squeezing her tiny self through the grills of the convent parlor. In disguise, she set out on a long journey across France, making careful use of the newly organized public system of postal carriages that would pick up passengers on a regular schedule. She wrote many letters to friends along the way, describing how she plotted her route and arranged to receive supplies in the mail. At one point, finding herself in a town that had no regular postal service, she sent a message to Louvois asking that it be established there.
She managed to live this way for nearly 10 years, receiving almost no financial support from her family but enjoying the generosity of a growing network of friends and admirers. When her husband died in 1679, she returned to Paris, thinking it was finally safe for her. By this time, though, her independence was the topic of so much discussion and debate that her in-laws, feeling the family humiliated, decided to pursue the adultery charges that her husband had brought against her. She spent more time awaiting her trial in the Concièrgerie prison, where she was made to recount and justify her travels. But she persisted in writing letters from prison, receiving visitors and admirers, and arguing for the rights of women to leave unhappy marriages and travel independently. Finally, in 1680, she was released in exchange for a heavy fine.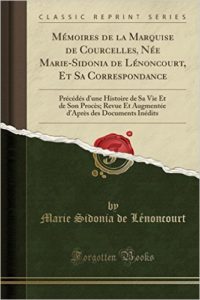 Marie-Sidonie de Courcelles remarried and lived for another five years, dying at the age of 35. She wrote her memoirs and left behind a lively correspondence that was read by many of her contemporaries – especially the female ones – as an inspiration to take to the road in the pursuit of happiness and liberty.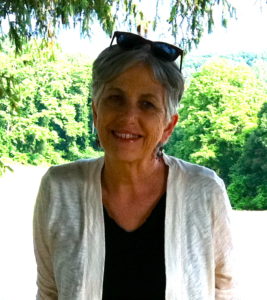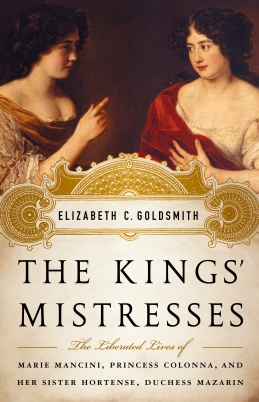 Elizabeth C. Goldsmith writes on the history of autobiography, women's writing, letter correspondences, and travel narrative. Her most recent book is a biography of the sisters Hortense and Marie Mancini, The Kings' Mistresses: The Liberated Lives of Marie Mancini, Princess Colonna and her sister Hortense, Duchess Mazarin. She is Professor Emerita of French Literature at Boston University.