by Elizabeth C. Goldsmith (Regular Contributor)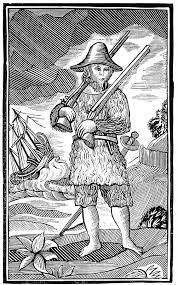 Robinson Crusoe, shipwrecked traveler and solitary survivor, has always been regarded as a manly figure. The first thing he does on his island is build a fort, and he is the ultimate handyman, always inventing ways to construct and use new tools that enable him to survive and prosper. There aren't any women on Robinson Crusoe's island. The novel was immediately associated with new approaches to forming the characters of young men based on the principles of nature. Rousseau declared that an entire boyhood education could be derived from reading Defoe's novel alone.
Soon after its publication in 1719, the story started generating imitations. Among these is an interesting assortment of stories published in the late 18th century by women writers, portraying the castaway as a woman, and broadening the shipwreck narrative to include varied circumstances and new types of adventurers. A common feature in all of these stories re-gendering Robinson Crusoe is that the female characters are not alone. They embark on their adventure with friends, sisters, lovers, or husbands. When the castaways do find themselves alone or abandoned, they seek out new contacts – with indigenous people or with other lost travelers who are washed up on shore. The Robinson Crusoe adventure becomes for them a way of creating new types of community. Female 'Robinsons' are preoccupied not only with building forts, they also focus almost immediately on finding entertainment, making music, telling stories, and building ovens for cooking.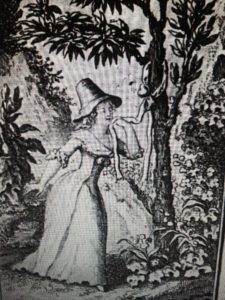 One of the most curious is a little known French novel by Marguerite Daubenton, published in 1786. She called it Zélie dans le désert. The narrator is a young noblewoman who embarks on a ship sailing for Batavia along with a female friend named Nina. Both women are fleeing their families who are opposed to the marriages that they want. Among the other passengers on the ship is Zélie's lover Ermancour. Nina is in the most difficult position – she is alone, and she is pregnant.
The ship is wrecked off a remote island, inhabited only by a solitary, bearded old man who himself had been castaway on the island 20 years before. He takes the women in, providing them with essential items like new dresses that he had saved from the wardrobe of his deceased wife. He also tells them stories and writes a book describing all he had learned about surviving in the wilderness. Nina gives birth and dies, leaving the baby Ninette in the care of her friend. Ninette will grow up to be a free-spirited girl, a child of nature, free of the constraints that her mother and friend had fled in Europe.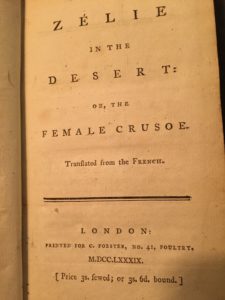 This tale of shipwreck and adventure seems to refer to Defoe's version, with a difference: The old Crusoe-like man is thrilled to find a family and pass on his wisdom before he dies. And when Zélie sees a footprint in the sand, it does not turn out to be that of a man who will become her servant, like Friday for Robinson Crusoe. Instead, it is the footprint of Ermancour, her lover who had been thought to be drowned. Together the new family of cast-out castaways goes into the forest to look not just for tools and food but for "beautiful, useful, and agreeable objects." Ermancour builds not a fort but a more fanciful structure, "as beautiful as an opera stage."
The story is long! And the plot takes many more twists and turns. It was popular enough to be translated into English almost immediately. In the English title, there is an added phrase: Zélie in the desert, or, the Female Crusoe.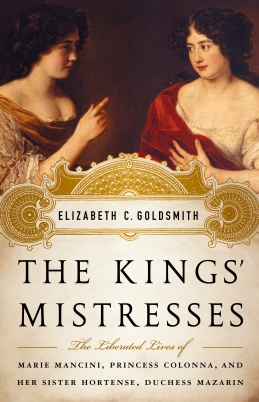 Elizabeth C. Goldsmith writes on the history of autobiography, women's writing, letter correspondences, and travel narrative. Her most recent book is a biography of the sisters Hortense and Marie Mancini, The Kings' Mistresses: The Liberated Lives of Marie Mancini, Princess Colonna and her sister Hortense, Duchess Mazarin. She is Professor Emerita of French Literature at Boston University.