By Heidi Brevik-Zender (Guest Contributor)

As the calendar pages flip from November to December and we feel the weather grow increasingly chilly, many of us are probably reaching for the comforting warmth of winter accessories, those wooly hats, cozy gloves, and lined boots that shield our extremities from frosty winter climes.  Even in (normally) balmy Southern California where I live, the mountains that I see from my window are capped with white snow, so scarves and gloves have been welcome additions to my outfits as I wrap up to ward off the early morning chill.
As fashion periodicals, mass-circulating advertisements, and historical garment collections from the 1800s show us, hats, gloves, and scarves were also ubiquitous clothing items in 19th-century French wardrobes.  However, one common frost-fighting object from this bygone era that has *not* remained a staple for us today is the muff, a cylinder-shaped accessory, typically made of fur or other warm materials, into which hands could be inserted for protection from the elements. If muffs have largely fallen out of fashion today, popping up sporadically in vintage clothing shops, forgotten at the backs of relatives' closets, or making only the odd appearance on the haute-couture runway,[1] in past centuries they were much more pervasive, serving not only as functional protective clothing items but also as eye-catching decorative statement pieces. Take, for instance, this exquisite muff from the early 19th century, which is lined in fur and overlaid with striking crimson feathers.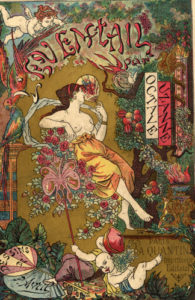 For the 19th century dandy Octave Uzanne, muffs were subjects worthy of a book.  A dandy luxury book producer and bric-a-brac-o-maniac, like his fin-de-siècle collector friend Robert de Montesquiou, Uzanne was a great admirer of beautiful tomes and ladies' accessories alike.[2] Uzanne's first study devoted to the subject of fashion accessories, his 1882 illustrated book The Fan (L'Éventail), paved the way for a sequel that he published the following year entitled The Sunshade – the Glove – the Muff (L'Ombrelle-le gant-le manchon).[3]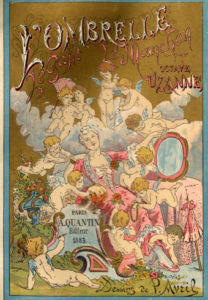 In this elegantly presented volume Uzanne makes clear that the muff is far more than a mere hand-warmer.  Fancying himself something of a muff historian, he traces an early example to Renaissance Italy, observing that in Venice, "celebrated courtesans and noble ladies at that time carried Muffs, which served for niches to minuscular dogs."  The conduit-like accessories could also be used to pass secret notes between lovers, prompting one writer to define the muff as "A letter-box, lined with white satin."
According to Uzanne, muffs were worn by men as well as women, and often for similar reasons of coquetry.  He notes "people used Muffs in winter just as much for elegance as for need" and quotes a contemporary observer who wrote "to-day (1768) men carry small Muffs lined with down, and trimmed with black or grey satin."   To meet the demand for muffs there were designated boutiques, such as this one pictured in Diderot's famous
18th-century Encyclopedia, where consumers could purchase muffs and store them during the off-season.  (One advantage to this system was that shop workers would de-louse the furry tubes, handing them over in fall, freshly bug-free, to their stylish wearers.)
There was also a dark side to muffs, Uzanne points out, noting that the accessory could call up tragedy and suffering.  He describes a particularly sad muff episode from Henri Murger's Scènes de la vie de bohème (1851), a series of sketches about impoverished bohemian artists living in the Latin Quarter that Giacomo Puccini reworked into the 1896 opera La Bohème.  (Readers today may be more familiar with the hit Broadway musical up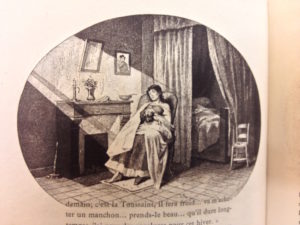 date of Puccini's opera, RENT, or the movie version of the musical from 2005.) Reading Murger's original text, Uzanne is brought to tears when the female protagonist, dying of consumption, asks only for a muff for her frozen hands, one that she hopes to wear the next day on a walk with her lover.  Tragically, though, she soon dies, expiring while still clutching her new muff. (Not surprisingly there is no muff mentioned in "Light My Candle," the corresponding song in RENT; instead, it is replaced in the musical with a reference to the handcuffs that Mimi, an exotic dancer, wears during performances.) [4]
This sensitive tale notwithstanding, it is the luxurious, delightfully frivolous, and sensual characteristics of the muff that ultimately draw Uzanne to it. "The Muff! The very name has something about it delicate, downy, and voluptuous," he exclaims. In a passage moving from nostalgia to a barely concealed naughtiness that seems primed for Freudian analysis, he then muses, "In childhood, we delight to play with the large maternal Muff, to pass our hands over it the wrong way to excite the electricity of the long hair, to plunge our faces in the pungent heady odor of its down, and to make use of this furred sack in inconceivable tricks, in playing at hide-and-seek with small objects, or in burying therein the family cat, who becomes lazy in its warmth."
From lap-dog holder to love-note carrier to trigger for dubious memories of Mommy, it would seem that, for Uzanne, warming hands was the least compelling of the muff's myriad functions.
Heidi Brevik-Zender is Associate Professor of French and Comparative Literature at University of California, Riverside.  She is the author of Fashioning Spaces: Mode and Modernity in Late-Nineteenth-Century Paris.
[1] For instance, the 2001 Fall Couture collection by Parisian fashion house Balmain featured a sumptuous gray muff-and-hat combo.
[2] For more on Uzanne and other Parisian luxury book producers of the late 19th and early 20th centuries see Willa Z. Silverman's fascinating book, The New Bibliopolis: French Book Collectors and the Culture of Print, 1880-1914 (Toronto: University of Toronto Press, 2008).
[3] For more on the fashion accessory see Susan Hiner's excellent Accessories to Modernity: Fashion and the Feminine in Nineteenth-Century France (Philadelphia: University of Pennsylvania Press, 2010).
[4] Puccini renders this scene in the memorable aria "Che gelida manina" ("What a cold little hand").
Bric-a-brac-o-mania is a monthly column on nineteenth-century material culture, edited by Rachel Mesch. You can find my other posts here!