By Kali Nicole Gross (Guest Contributor)
In 1887, Hannah Mary Tabbs, a black Maryland migrant, found herself at the center of a gruesome murder in Philadelphia. The discovery of a headless, limbless, racially ambiguous torso just beyond the city limits had understandably unnerved both black and white residents. Though the case seemed doomed to go unsolved, given the inscrutable nature of the victim, two teams of investigators—in Eddington and Philadelphia—would eventually home in a black suspect. Hannah Mary Tabbs, as it turns out, had not only worked in Eddington and lived in Philadelphia but, as authorities would soon learn, she also carried on a passionate and volatile affair with the victim, a "mulatto" named Wakefield Gaines. Although the case is atypical in many respects, it nonetheless offers some critical, historical meditations on American violence.
As a black woman, Hannah Mary Tabbs existed at the complex intersection of race, gender, and sexuality, but her personal origins would place her at an equally complicated moment in history. Specifically, she was born during the 1850s, the time of enslavement, in Anne Arundel County, Maryland—a region notorious for a brutal slave-owning family. She also grew up in a state that was occupied during the nation's bloody civil war. At war's end, she was on the precipice of womanhood, a girl of approximately sixteen years of age, with a mulatto baby in tow. That she survived at all is itself something of a miracle; that she was not untouched by the period's violence should come as no surprise.
After she married and migrated north in the 1870s, Tabbs managed to secure good jobs as a cook in a number of white homes, where she worked without incident for nearly a decade; but the investigation into the Gaines homicide would unearth a fairly extensive record of brutality—acts she meted out in her home and also against others in the black community. Many black women of the time were vulnerable to victimization and had few avenues for legal redress. It seems that Tabbs not only used violence and intimidation to protect herself and navigate that difficult urban landscape but she also found ways to use brutality to create space in which to dominate those in her immediate orbit and to grant herself the illicit sexual pleasures that came along with her extramarital relationship with Gaines. Her methods and apparent motives are at once unsettling and enlightening. They speak to the ways that discrimination, violence, and trauma create victims and victimizers—and suggest that individuals can often occupy both identities.
Though cases like this are rare, figures like Hannah Mary Tabbs nonetheless offer an important vantage onto the extremities of black womanhood and its relationship to violence in American history.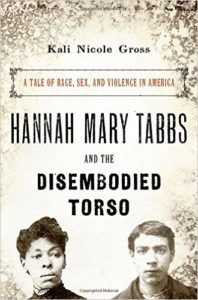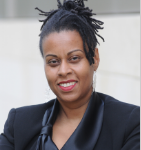 Kali Nicole Gross is professor of African American Studies at Wesleyan University and author of Colored Amazons: Crime, Violence, and Black Women in the City of Brotherly Love, 1880-1910, the newly released Hannah Mary Tabbs and the Disembodied Torso: A Tale of Race, Sex, and Violence in America (OUP 2016), and co-author of the forthcoming book, A Black Woman's History of the United States (Beacon 2018). Follow her on Twitter @KaliGrossPhD