By Michael Garval (Regular Contributor)
"Little chef." In the 2007 animated film Ratatouille, this is what bungling culinary neophyte Alfredo Linguini calls his sidekick and alter ego, the talented rat Remy. But "little chefs"—impish kitchen apprentices or, in French, marmitons—are no Disney Pixar invention. They were already fixtures in nineteenth-century French culture, linked in the popular imagination to the rise of the celebrity chef.
Apprentice celebrities
After millennia of cooks toiling in relative obscurity, as domestic help, celebrity chefs burst on the scene in post-revolutionary France, most notably with the great Antonin Carême (1784-1833). Musing and mythmaking abounded, as contemporaries puzzled over the origins of such a novel public figure. By the latter nineteenth century there had emerged an extensive mythology of the marmiton. Illustrated menus, prints, postcards, popular theater, biography, and children's literature imagine the lowly scullion's magical transformation into an accomplished culinarian—an individual metamorphosis mirroring the broader, but also seemingly miraculous advent of the celebrity chef. Marmiton mythology draws likewise upon the rich, deep-rooted lore of culinary sorcery, to offer a fanciful yet compelling vision of the celebrity chef's extraordinary new place in the public sphere.
Fairy tale logic
In the late nineteenth and early twentieth centuries, chefs were overwhelmingly male and adult, while underrepresented as such in popular culture. Instead, comical chef figures abound, particularly mischievous boys or even infants—marmitons or yet more implausible petits marmitons, their iconography closely linked to the retrograde revival of cherubic putti in nineteenth-century academic art. Such ill-qualified chefs typically appear clumsy, foolish, irresponsible, spilling food, swilling drink, burning sauces, chasing uncooperative fowl, getting assaulted by lobsters.
Such fantasies of culinary disaster proliferated while French kitchens were producing elaborate feasts, in a gastronomic golden age, with French culinary prowess a pillar of national pride and international prestige. How might we reconcile this seeming contradiction between the spectacular ineptness of so many little chefs and the triumph of French gastronomy? How might we sort out the paradox of the marmiton?
Not yet a chef, the marmiton is a potential chef. In marmiton mythology, fairy tale logic reigns. Little apprentices, however hapless, could become great chefs, just as a humble stepsister could become a princess; a frog, a prince; or, a pumpkin, a carriage. Within this fairy tale logic, the lowlier the beginnings, the loftier the outcome, the more wondrous the transformation. The marmiton provides the necessary antithesis and anticipation of the great chef, his opposite and origin.
Magical marmitons
How to represent the little apprentice's metamorphosis? Most often it is not depicted, with otherworldly occurrences excluded from this world, like violence relegated offstage in classical theater. But some rare, revealing works try to show such a change.
In one chromolithographic trade card, two marmitons play a practical joke on their newest peer, assembling an adult chef effigy out of spare kitchen paraphernalia, including that most enchanted vegetable, the pumpkin. Like us, they look on as the "nouveau marmiton" meets his would-be boss. The boy gazes at the pumpkin-headed chef he might become, as if facing a prophetic mirror. He glimpses his future, a vision of potential, magical transformation.
In a curious 1904 children's book, later surrealist poet and painter Max Jacob offers us le Marmiton Gauwain, a royal kitchen apprentice in a fictional kingdom resembling Provence. In this culinary fairy tale, food is always magical, starting with Gauwain's first exploit: a white powder concocted from anise, sugar, orange, acid, and Hungarian wild thyme, sprinkled over a cake, creates an extraordinary taste, alerting the king to his talents. Later, "alchemical" substances make water boil, and Gauwain prepares a feast overflowing with wondrous fare—Egyptian mongooses, or Brazilian yams garnished with internally illuminated ice.
His professional ascent astonishingly quick, Gauwain prevails at sixteen:
Gauwain worked, worked, worked, so so much, so so much, that he knew all the recipes by heart and invented some more, so that he was the best cook in the world.
The incantatory repetition of "worked" and "so so much," like the improbable speed of his apotheosis, make Gauwain's success seem less the result of hard work than of magic.
Behind the fanciful figure of le Marmiton Gauwain looms the spectre of Auguste Escoffier, the period's premier celebrity chef. While Jacob's tale never mentions him explicitly, it was published in 1904, a year after Escoffier's epoch-making Guide culinaire, when he was seen more than ever as the paragon of culinary authority. Much in Gauwain's story recalls Escoffier, and evokes key aspects of the regional, national, and international contexts surrounding his ascendance: meridional origins and a blacksmith father, a gift for hobnobbing with social superiors, profitable collaboration with an enterprising hotelier (in Escoffier's case César Ritz), sparkling success in a once hostile kingdom (for Escoffier England), and ultimate reconciliation between hereditary enemies (like Jacob's book, the Franco-British Entente Cordiale dates from 1904).
Gauwain's meteoric rise, his magical metamorphosis from apprentice to "best cook in the world," then conqueror and king, offers a mock-heroic allegory, a parodic fairytale rendering of Escoffier's remarkable career, impact, and international ambition. A century after Carême's First Empire stardom, the apotheosis of the celebrity chef remained so astonishing that it was imagined, not as the result of exceptional achievement, but rather as a supernatural transformation.
Latter-day marmitons
Marmiton lore still haunts popular culture, on the big and small screen. In Ratatouille, the marmiton role splits in two. Linguini displays the apprentice's conventional incompetence, while Remy taps into the deep magic of marmiton mythology. This little rat's improbable triumph takes him from the lowest places to the loftiest heights—visually, from sewers to rooftops—as he becomes the greatest chef in Paris and by extension in the world, like Gauwain or his real-world analogue Escoffier.
Latter-day marmitons surface as well on television, notably in the cooking competition show MasterChef Junior, an international phenomenon, with versions broadcast from Brazil to France, Indonesia to Vietnam. The show's name conflates youth and mastery, and likewise young contestants seem preternaturally skillful from the start. Maybe this radical foreshortening of the path to culinary stardom stems from our modern penchant for instant outcomes, and maybe also from a newfound comfort with fame in the kitchen. Perhaps becoming a celebrity chef is such a familiar thing these days, attaining this exceptional status now so unexceptional, that even a child could do it.
Michael Garval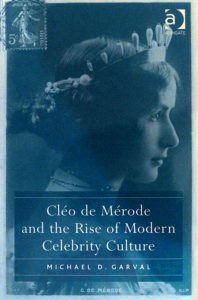 , Professor of French and Director of the interdisciplinary Master of Arts in Liberal Studies Program at North Carolina State University, also serves as Associate Editor of the journal Contemporary French Civilization. His research interests include celebrity, visual culture, and gastronomy. The author of 'A Dream of Stone': Fame, Vision, and Monumentality in Nineteenth-Century French Literary Culture, and of Cléo de Mérode and the Rise of Modern Celebrity Culture, he is currently working on a new book project, Imagining the Celebrity Chef in Post-Revolutionary France.