By Elizabeth Foyster (Guest Contributor)
My book started with a tip-off. It was July 2000 and I was working in one of my favourite places, Lambeth Palace Library in London, on a book about marital violence. Surrounded by theologians, who I am sure were researching worthier things, I was ploughing through the depressing stories of couples whose violent marriages were ended by the English church courts during the course of the seventeenth and eighteenth centuries. I was looking for an excuse for a break. Then Melanie Barber, the Senior Archivist, entered the room. I had liked Melanie ever since I had first visited the Library as a naïve PhD student, and she had responded to my many queries with patience and kindness. As was Melanie's way, she walked around the room, asking each person what they were reading, and taking an interest in their work. Then it was my turn. "You should take a look at the Portsmouth annulment case," she told me. "There are boxes of material and nobody has ever looked at them before."
I still have the pencil note of this conversation, and the case reference number, but a combination of work and family commitments meant that it was a long time before I opened those boxes. To my great regret, I never got to thank Melanie for her generous advice, as she died in 2012. I hope she would think I have done the archive justice.
"No More Insane Than Any Other Person Going to Be Married"
The boxes at Lambeth are a treasure trove. Never before had I come across such a volume of words and outpouring of emotion about a historical figure. The annulment case had been called to decide whether the 3rd Earl of Portsmouth had been insane when he married his 2nd wife on 7 March 1814. Doctors gave their opinions, but couldn't agree, and the case came to rest on the views of very humble people who otherwise would have disappeared from history. Portsmouth's servants and farm labourers, as well as the villagers who lived close to his Hampshire estate, were given a platform to speak. Over a hundred witnesses came forward, and it seemed as if in the 1820s everyone had an opinion about Lord Portsmouth, but I had never heard of him. Why had his story laid buried in the archives for so long?
The annulment case got me hooked, but it turned out to be just the last of the legal trials that Portsmouth faced. When I traced his story back, I discovered lawyers' notes relating to a first call for a Lunacy Commission in 1815, and printed accounts of an 1823 Lunacy Commission. Reading through these records I discovered that Portsmouth had been tutored as a boy by the father of Jane Austen at his rectory in Steventon, and that Jane attended balls at his Hampshire home. Lord Byron was a witness to Portsmouth's second marriage, and was adamant that Portsmouth was no "more insane than any other person going to be married."
In On the Secret
It is all very well reading the notes taken by legal clerks, but for me, nothing beats handling and folding open letters that were exchanged between family members. These are sources that were never intended to be read by anyone but the recipient. Here I struck lucky again, because the Portsmouth family kept up a huge correspondence. It turned out that Portsmouth was not the only member of his family with mental problems. An aunt and two of his cousins were locked away in madhouses, but the family were so adept at keeping secrets that these facts were never revealed in Portsmouth's trials. I was in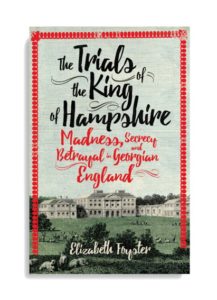 on the secret.
I made one more discovery that was tucked away in these family papers: letters written by Lord Portsmouth himself. I spent so long reading about Portsmouth via the words of others, that it was wonderful to come across his words, in his handwriting. I didn't have a portrait of him (one was never commissioned), so this was the closest personal thing I had. This small group of letters was written by Portsmouth when he was in his early 80's (he died in his eighty-sixth year). After all the years of legal trials, and the many stories that had been told about his eccentric and sometimes disturbing behaviour, his letters were not what I'd expected. Clearly written, all they lacked was punctuation. They defended his right to continue living in Hurstbourne Park, a perfectly reasonable request since this was his lifelong home. And to me they did not look or read like the letters of a madman. Why, then, had Portsmouth's sanity been so publicly questioned?
Bringing together all these stories from the archives, I've presented the case of Lord Portsmouth in my book, The Trials of the King of Hampshire: Madness, Secrecy and Betrayal in Georgian England (Oneworld). I invite you to join the jury at the Lunacy Commission, and decide the truth about this extraordinary man.
Elizabeth Foyster is a Fellow and Senior College Lecturer at Clare College, Cambridge. She explores the sort of subjects that are often left out of the history books – childhood, married life, sex, relationships with siblings and parents, masculinity, old age and widowhood. She lives in London.