by Elizabeth C. Goldsmith (Regular Contributor)
One of the most remarkable books of fashion ever produced is an illustrated manuscript, created by a German accountant born in 1497. At the age of 23 he decided to document his life in clothes. Over the next 40 years he had 137 images of himself painted for inclusion in his pictorial autobiography. We see him working at his desk, preparing for a voyage, "flirting in the streets," attending a funeral. Accompanying each portrait in this work that he called his "Book of Clothes" is a careful description of the style, fabric, and design of his outfit.
Matthäu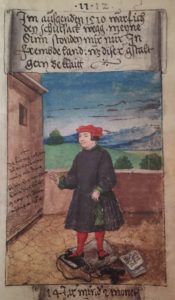 s Schwarz was inspired in his project by a lively interest in fashion which he saw as rapidly changing in this period of increased travel and international trade. He himself loved to travel and embraced the business assignments that took him away from Augsburg. As head accountant for the powerful Fugger family of merchants, he developed a keen appreciation of the luxury fabrics that were traded along with other precious items through the firm of Jakob Fugger.
As a child Matthäus dreamed of adventure and travel. In one of the illustrations in his book that reflect on his youth, he shows himself discarding his schoolbooks and yearning to enter the distant landscape. The caption reads:  "At the end of 1510, I threw away my school bag. My desire was to see foreign lands, and I liked to be dressed in this way."
His wishes were granted when he was sent to Italy to learn accounting. Fashionable attire was essential for him to be able to project his status. But his fondness for expensive fabrics did not always work out so well. In one image he is wearing a French outfit that was stolen from him while in Milan.  Moving on to Venice, he dressed a bit more soberly, all in black.
"I wore this in Venice: long hair, a Spanish cape, a Genoese bonnet, Lombard gown, the doublet a half silk."
"4 April, 1516, in the French manner. The gown with velvet, the doublet silk satin. This was taken from me … by Gascon men."
To mark the beginning of his brilliant career, Matthäus had himself painted at his new desk, with his work smock hanging loosely open, revealing a ruffled shirt and a doublet with slashed sleeves, yellow inner fabric, and black velvet ties.  The portrait shows off his new connections to the world, via the drawers for correspondence with cities such as Milan, Rome, Lisbon, and Venice.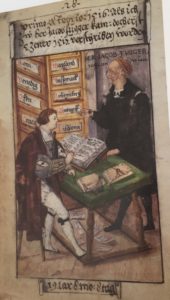 Even when ill, he wanted to look good. Here he is en route to a treatment for malaria. "This was my outfit at the baths at Goppingen, when I suffered tertian fever."
The last image in his book shows Matthäus at age 63, attending the funeral of his "gracious master" Antoni Fugger. "On 16th September, 1560, this was my clothing, when my gracious master died."
But the most startling illustration in the 'Book of Clothes' is one that he commissioned at age 29, when, as he puts it, "I had become fat and round." It is the only illustration showing him from both front and back.  It is not idealized. It is as though he wanted to include one image in the book that would show his body as it really was, stripped of the beautiful illusion that fashionable clothing could create.
An English translation of The Book of Clothes was published in 2015 as The First Book of Fashion, edited by Ulinka Rublack and Maria Hayward.
Elizabeth C. Goldsmith writes on the history of autobiography, women's writing, letter correspondences, and travel narrative. Her most recent book is a biography of the sisters Hortense and Marie Mancini, The Kings' Mistresses: The Liberated Lives of Marie Mancini, Princess Colonna and her sister Hortense, Duchess Mazarin (Public Affairs Books, 2012). She is Professor Emerita of French Literature at Boston University.