By Elizabeth C. Goldsmith (Regular Contributor)
When Frances Trollope embarked with her three young children on a voyage to America in late 1827, she was on a business mission for her husband. She had been charged with investigating the possibilities for establishing a department store in Cincinnati, in a fanciful attempt to save the family's collapsing finances. Three years later, the business enterprise had failed miserably and one of her children had become so ill that he had to be sent home to England. Frances was left to muse over her experiences and impressions of America. She did so in a book that she titled Domestic Manners of the Americans.
Her account was not enthusiastic. Her eccentric and exuberant husband had filled her with a picture of America as a land of opportunity, honesty, and natural, good-natured, optimistic, hardworking people. She would come away with the memory of "the bullying, struggling, crafty, enterprising, industrious, swaggering, drinking, boasting, money-getting Yankee, who cares not who was his grandfather, and meditates on nothing, past, present or to come, but his dollars, his produce, and his slaves." Her memoir alternates between fascination with the amazing natural resources of the New World and bitter disappointment with the society of its inhabitants.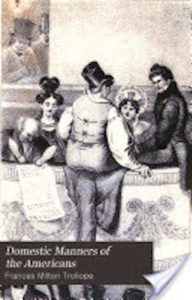 She covers a wide array of topics and impressions – from farming to dinner parties, schooling to church meetings, criminal justice to theatre, art, literature, fashion and food. A recurring commentary is on politics. Her first year in America was an election year, culminating in the inauguration of Andrew Jackson as president. When her book appeared in print, in 1832, it was the second term of Jackson's electoral campaigning. Although she professes to have come to America with an open mind to the advantages of democracy, she was not impressed by American-style campaigning. From her initial boat ride up the Mississippi, when she witnessed a fight between two military officers, one pro-Adams and one pro-Jackson, she was struck by our crude and "incessant electioneering". Her impression of cities is that political campaigning takes precedence over all other forms of management, including routine maintenance of roads and buildings. Americans love to argue politics, it seems to her, but she has difficulty hearing substantive reasons for supporting new candidates who are put forward. "Adams was out-voted for no other reason," she writes, "than for the principle of 'change'. 'Jackson forever!' was, therefore, screamed from the majority of mouths, both drunk and sober, till he was elected."
Not surprisingly, Frances Trollope's travel account was not well reviewed in America. But it was a bestseller on both sides of the ocean.  It was to launch her career as a writer. Her caustic analysis of social hypocrisy and shallow pride surely also influenced her son Anthony, whose writing would become famous for exhibiting similar talents.  One American who did admire her was Mark Twain, who wrote:
"Of all the tourists I like Dame Trollope best, she found a 'civilization' here which you, reader, could not have endured; and which you would not have regarded as civilization at all. Mrs. Trollope spoke of this civilization in plain terms — plain and unsugared, but honest and without malice, and without hate … She was merely telling the truth and this indignant nation knew it. She was painting a state of things which did not disappear at once. It lasted to well along in my youth, and I remember it."
Today's readers, too, might well find that in this election year, Frances Trollope's Domestic Manners of the Americans still has many moments that ring true!