By Susan Jaques (Guest Contributor)
As an unhappily married grand duchess, the future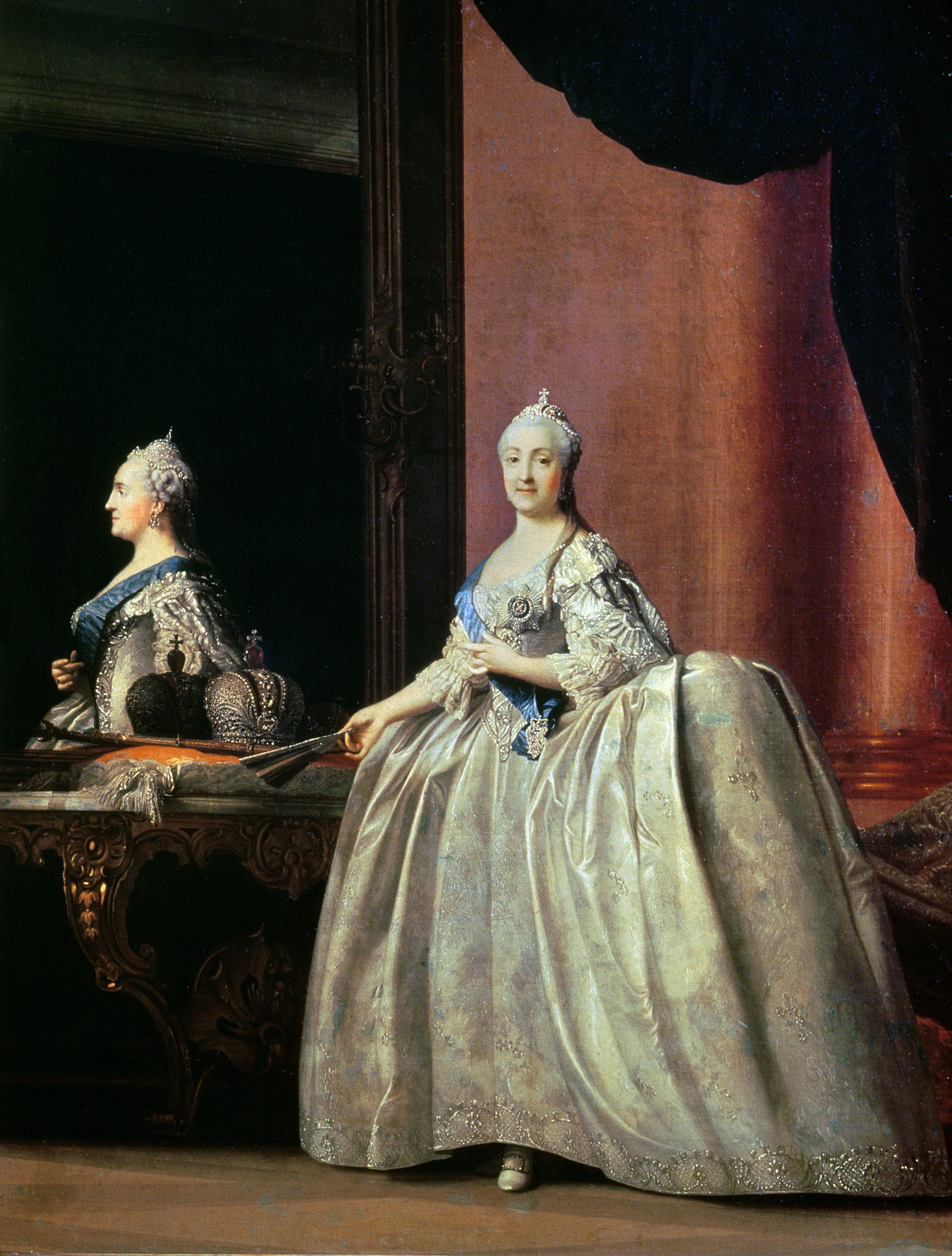 Catherine the Great put her "eighteen years of boredom and seclusion" to good use.  A voracious reader, Catherine assembled a large personal library reflecting her broad interests — from history, philosophy and politics to science, travel and art.  As she did with Old Master paintings, Catherine II snagged entire libraries, including those of French philosophes Voltaire and Denis Diderot.
To seal the 30,000 ruble deal with Voltaire's niece and heir, Catherine threw in diamonds, furs, and a jeweled box with her portrait.  In 1779, twelve large crates containing his 6,760 volumes were unpacked in the Oval Room of the Winter Palace. When Diderot died six years later, his books were installed beside those of Voltaire.  Among the art critic's 2,904 volumes was the only uncensored copy of his masterpiece, Encyclopédie, which Catherine called "indispensable."
Of the many genres she amassed, it's no surprise that Russia's art-loving empress prized art and architecture books. "I am passionately interested in books on architecture. They fill my room and even that is not enough," wrote the armchair traveler about her trove featuring works by Andrea Palladio and Giovanni Piranesi.  Installed at her favorite summer getaway, Tsarskoe Selo, Catherine's architecture collection proved a valuable resource for her designers, Charles Cameron and Giacomo Quarenghi.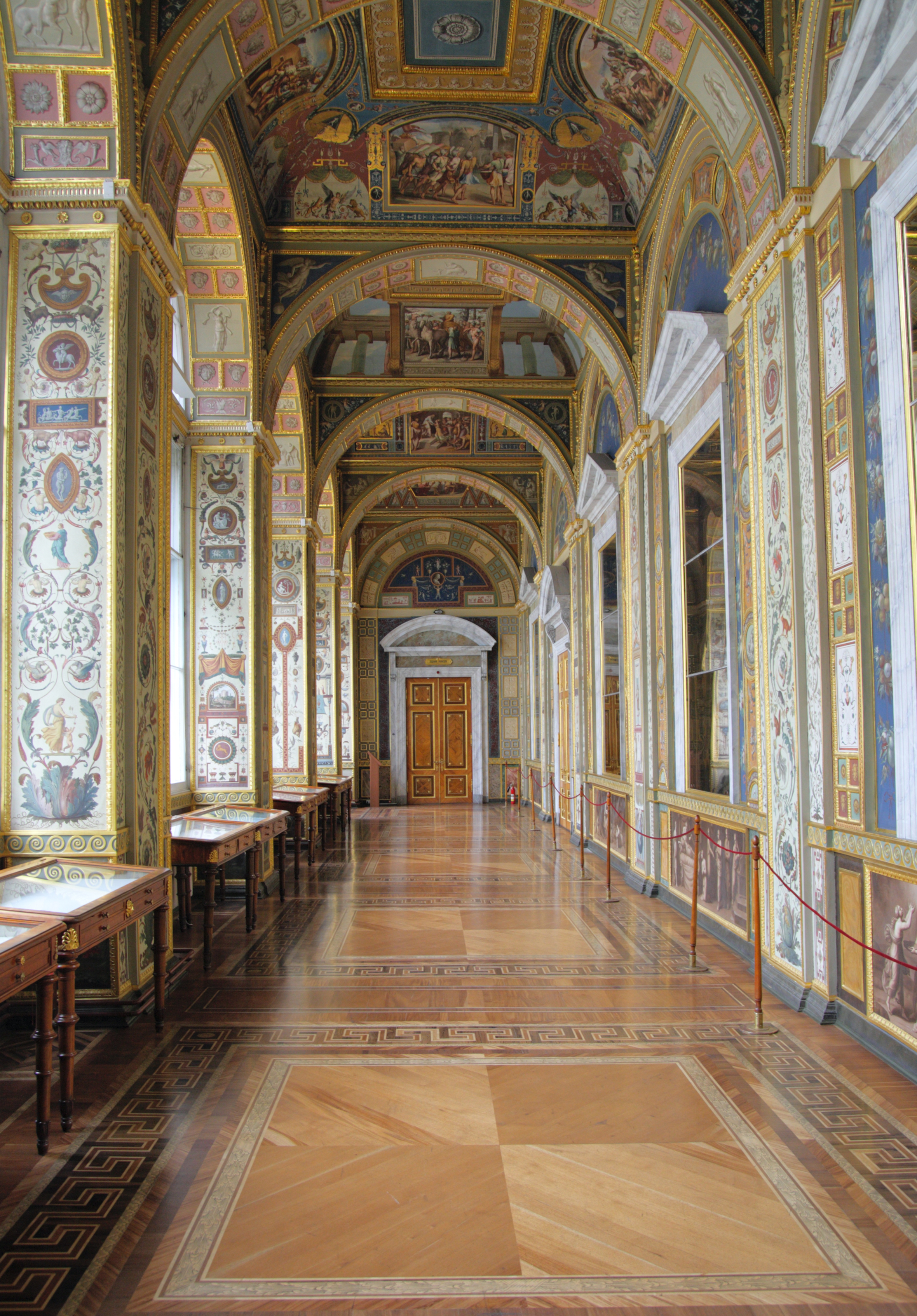 Catherine's books inspired many of her art commissions.  After seeing an exquisite book of engravings by Giovanni Volpato of the Vatican's Raphael Loggia, Catherine ordered an exact replica for the Winter Palace (see image at right).  She couldn't have her biblical scenes soon enough. Six months into the project, Catherine wrote: "The slightest indigestion of the Holy Father sends me into agonies, for a conclave would delay the work tremendously." Catherine modeled the Hermitage Library after the Vatican's, and symbolically moved her book collection below the new Raphael Loggia.
The Hermitage Library's shelves also included Catherine's own publications — poems, chronicles, memoirs, plays, opera librettos, magazine articles, fairy tales, a treatise on Siberia, history of the Roman emperors, and a six-volume Notes on Russian History. For her dictionary of comparative languages, Catherine wrote Thomas Jefferson for help translating several hundred words in the Shawnee and Delaware Indian languages; George Washington contributed a translation of Cherokee and Chocktaw words.
By the end of Catherine the Great's reign, the personal library she'd started as a grand duchess had mushroomed into an encyclopedic 44,000 volumes. In 1795, the year before her death, Catherine approved the design for the Imperial Public Library at Nevsky Prospect.  Like her world class art collection, Catherine saw the library as a symbol of enlightened Russia. Today, the Russian National Library is the world's fifth largest, occupying a city block.
Susan Jaques is the author of The Empress of Art: Catheri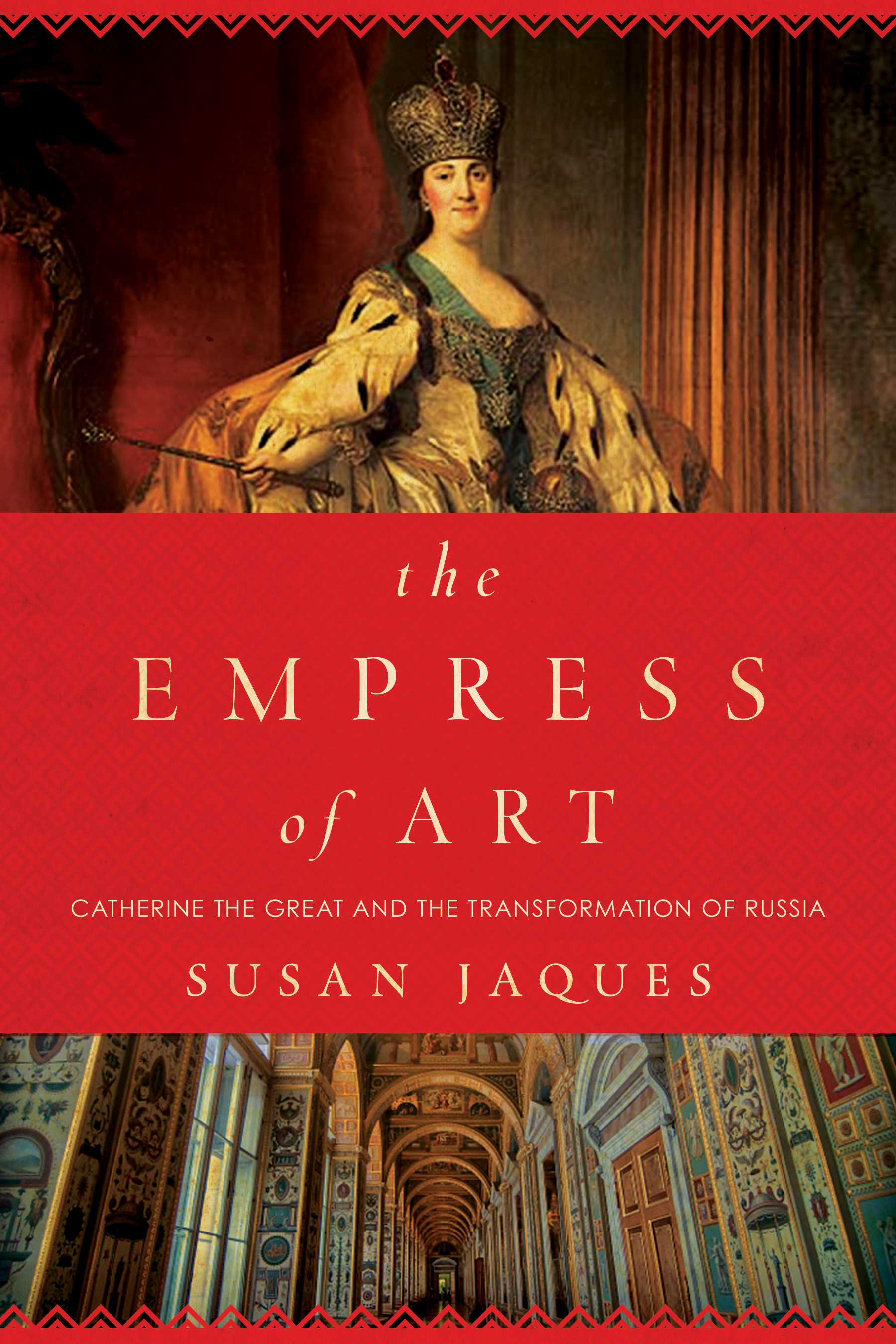 ne the Great and the Transformation of Russia (Pegasus Books, April, 2016).  She is a member of Historians of Eighteenth Century Art & Architecture and Biographers International and a gallery docent at the J. Paul Getty Museum.
Images:
Empress Catherine II before the mirror, 1779 (oil on canvas), Vigilius Eriksen/ State Russian Museum, St. Petersburg, Russia / Bridgeman Images
The Raphael Loggia, State Hermitage Museum, ©Nimblewit, Dreamstime.com