By Adrienne Mayor (regular contributor)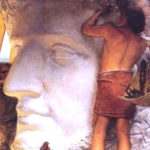 A unique record of a purposeful paleontological investigation of a large vertebrate fossil was carried out by the Roman emperor Tiberius. During Tiberius's reign (AD 14‑37), a violent earthquake utterly devastated several cities of Asia Minor. According to Phlegon of Tralles, who had access to the imperial archives and other writings now lost, the damage was especially severe in Pontus on the Black Sea (now Turkey). Pliny the Elder commented that this was "the worst earthquake in human memory, destroying twelve cities in one night."
The earthquake opened cracks in the earth, exposing vast skeletons. Phlegon reported that the survivors "were reluctant to disturb the bones," believed to belong to ancient heroes from the days of myth. "But they decided to send an enormous tooth from one of the skeletons to Tiberius." Ambassadors from Pontus carried the great molar, about 12 inches long, to Rome.
The envoys asked the emperor if he wished to have the rest of "the giant hero." Eager to know the creature's full size and form, but nervous about desecrating what might be a hero's grave, Tiberius devised "a shrewd plan."
He hired a "geometer" named Pulcher to make a model of the giant based on the tooth. According to Phlegon, Pulcher sculpted a head proportionate to the size and weight of the tooth. Then the mathematician estimated how large the entire body would have been. Pulcher's replica, presumably a grotesque humanoid bust of clay or wax, pleased Tiberius.
This ancient narrative is more than just an anecdote about Tiberius's clever response to a provincial embassy. The facts are historically and scientifically sound: The Black Sea region is prone to strong earthquakes which do expose gigantic skeletons of extinct mastodon, steppe mammoth, and Elasmotherium (giant rhinoceros). In his work "On Earthquakes," Theopompus of Pontus described a quake on the Taman peninsula between the Black Sea and Sea of Azov. In that case, the earthquake "tore open a ridge and disgorged immense bones" whose "skeletal structure measured 24 cubits [34 feet; 10 meters]." The size of the giant tooth (about 12 inches) transported to Tiberius corresponds to the length of the molar of a steppe mammoth.
Tiberius generously rebuilt the destroyed cities in Pontus. In gratitude, the ambassadors dedicated a bronze statue of a giant in the Temple of Aphrodite in the Roman Forum. It seems likely that the giant tooth may have been part of the dedication. Unusual relics from the provinces were routinely sent to Rome, and a hero's tooth would be an especially suitable tribute at the dedication of a giant statue. Emperors often commissioned replicas of items of interest and colossal statues were extremely popular in Rome at that time. The imperial mathematician's extrapolation of the "hero's" stature from a single tooth is not far‑fetched: paleontologists today use a lower first molar to give a good indication of a mammal's total body size and weight.
Phlegon's long-neglected account of the giant tooth is the earliest written record of a scientific reconstruction of a life‑sized model from prehistoric animal remains.
About the author: Adrienne Mayor is the author of The First Fossil Hunters: Dinosaurs, Mammoths and Myths in Greek and Roman Times; The Poison King: Mithradates, Rome's Deadliest Enemy, a nonfiction finalist for the National Book Award, and The Amazons: Lives and Legends of Warrior Women across the Ancient World.