By Elizabeth C. Goldsmith (Regular Contributor)
One of the most curious and unexpected influences in the career of Henri Matisse was his encounter with the American art collector Albert C. Barnes. In 1929, looking for new ideas at a moment in his life when the artist was feeling old and uninspired (he was 60), he decided to take a trip to Tahiti. His route took him across North America, where at first he was so enchanted that he almost didn't complete the voyage. Everything he had been hoping to find in the South Seas – a vital environment bathed in simplicity, energy, light – he felt he was already encountering in America. " The first time I saw New York," he wrote later, "this gold and black block in the night, reflected in the water, I was in complete ecstasy." What was to be a prolonged stay in the South Seas ended up as nearly three months in the United States, followed by just two months in Tahiti. Soon after his return to France, he made another trip to New York and decided to visit the collection of Albert Barnes outside of Philadelphia. Barnes owned more Matisse paintings than any other collector in the world.  The artist wanted to look with fresh eyes at his own work, and contemplate how it was being presented to American viewers.
Barnes was a cantankerous and eccentric collector. He had amassed a fortune in pharmaceuticals and was building one of the greatest personal collections of art in America, but he didn't care for the world of art critics and he detested museums. He arranged the works on the walls of his foundation without regard for strict divisions by time period or painter and with no accompanying written explanations that would detract from viewing the paintings themselves. The Philadelphia elite shunned him (he was a butcher's son) and he enjoyed insulting them back by inviting mostly 'ordinary people' to see his collection while denying the requests of celebrities, critics, and scholars. But when he heard that Matisse wanted to visit, he eagerly opened his door (though he refused admission to Matisse's hosts from the Carnegie Institute). The two men hit it off. Matisse came away with a commission to produce a new mural for Barnes, to fill a space in the main gallery.
When he had looked for inspiration in the landscape and simplicity of Tahiti, Matisse would later say he had only found "lethargy" there. But in the peculiar style of the Barnes Foundation collection, Matisse found himself energized, and eager to participate in the ideas of this man who believed that art could be made fundamental to the lives of ordinary people without constant recourse to experts and museums set up like "cathedrals", "temples", or "tombs", Matisse's characterization of most museums. Matisse wrote in his diary that the Barnes Foundation was "the only sane place" he had seen for exhibiting paintings. He admired the well-lit, "complete frankness" of the presentation and declared that the paintings were "exhibited in a spirit very beneficial for the training of American artists." He delayed his return to France in order to have more conversations with Barnes and develop his ideas for the new mural.
In the ensuing months the artist and collector had more meetings, in both Paris and Philadelphia. Matisse made a template for the mural and he wrote to his wife that he felt he had made "great progress in terms of clarity of mind." He was thrilled to be working on a piece that would be displayed in a way that would blend with the architecture of the gallery and also seem to be part of the greenery outside, as viewed through large windows below the mural.
But the mural would become a much more complicated and challenging task than either Barnes or Matisse had anticipated. The whole project was almost abandoned altogether after Matisse discovered, to his horror, that he had made a miscalculation in the measurements of the space his work was designed to fill. His "enormous mistake," as Barnes termed it in a telegram, forced the artist to start over again on new canvases. Tensions developed. Barnes commented to Matisse's son that the project was beginning to look like "the greatest tragedy of his life."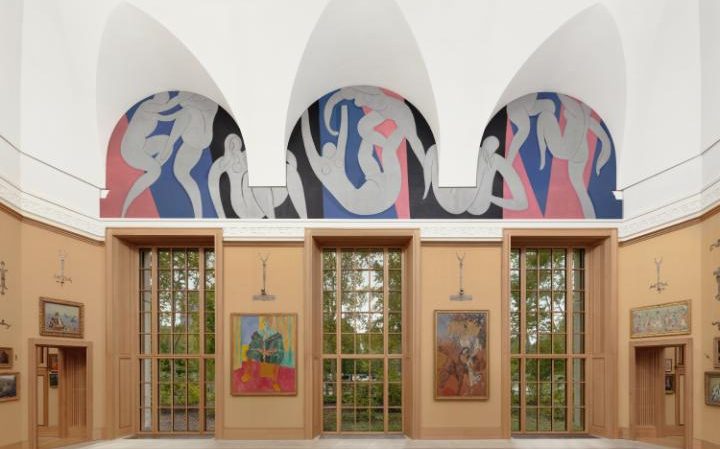 Finally, after more meetings between artist and collector on both sides of the ocean, in 1933 Matisse made the transatlantic crossing to personally install his finished canvases. He was worn out. He insisted on nailing the first canvas to the stretcher himself, and then promptly collapsed from stress and exhaustion. Doctors were called in and he was ordered to rest. Three days later, the mural installation was complete and Matisse was ecstatic: "When I saw the canvas put in place," he wrote a friend, "it was detached from me and became part of the building, and I completely forgot the past, it became like a living thing. It was like a real birth in which the mother becomes detached from the past pain."
It would be his last voyage to America. But he would forever consider the Barnes mural project to be the one that enabled him to "go back to the source," as he put it, and embrace a fundamental simplicity of design and purity of expression.
For further reading: Matisse: The Dance, by Jack Flam (Washington, D.C., 1993)