Adrienne Mayor (regular contributor)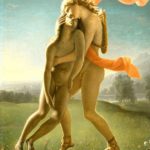 Murder by a gust of wind killed the beautiful youth Hyacinthus in ancient Greek myth. It was said that Zephyr, the West Wind, was once as churlish as his brother Boreas, the North Wind. His character was transformed into a gentle "zephyr" of Springtime by the beautiful nymph Anenome, whose flowery head nods in the soft, pleasant breezes in the Greek countryside.
But another myth describes Zephyr's earlier, malevolent nature. The tale blames the West Wind for the death of Hyacinthus, a youth beloved by Apollo. In the story, Zephyr was consumed by jealousy when he observed Hyacinthus and Apollo taking turns tossing a discus one spring day. Zephyr impulsively blew a strong, sudden gust of wind. The gust caught up the discus and caused it to boomerang back at Hyacinthus. The edge of the metal Frisbee struck him on the forehead, killing him instantly.
How strong was that deadly gust? According to the modern Beaufort Scale (invented in 1805) for measuring wind force, winds are rated from 0 to 12. At Force 0, smoke rises vertically and gossamer (fine spider silk) floats in the calm air. This weather condition describes the summer day in the fourth century BC when Aristotle watched tiny spiderlings on fine webs wafting over a meadow.
At Force 4, "moderate breeze," one's hair is ruffled and skirts flap, and mosquitoes stop biting.
Between Force 6 and 7 (25-38 miles per hour), you would find walking into the high wind difficult. Umbrellas turn inside-out, and trees toss and sway. Bees, butterflies, and most birds seek shelter.
By Force 9, "strong gale," dragonflies are grounded, small children are blown over, tiles are blown off roofs, and the only birds still airborne would be swifts.
Adults are toppled and trees are uprooted at Force 10. Hurricane warnings are issued when winds reach Force 12, over 70 miles an hour.
It seems reasonable to declare that Zephyr's fatal gust of wind would probably rate a Force 8, "fresh gale," with a wind speed of 39-46 miles per hour.
It was said that the hyacinth flower was stained by the dead youth's blood.
About the author: A Research Scholar in Classics and History of Science, Stanford University. Adrienne Mayor is the author of "The Poison King: Mithradates, Rome's Deadliest Enemy," a nonfiction finalist for the 2009 National Book Award, and "The Amazons: Lives and Legends of Warrior Women across the Ancient World" (2014).