By Elizabeth C. Goldsmith (Regular Contributor)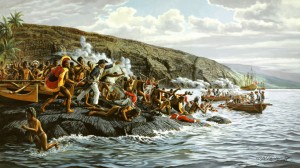 In the history of seafaring misadventures in the waters off Hawaii, there are two that are particularly well known. In 1779, on the shore of Kealakekua Bay, with his ship anchored within sight just a short distance away, Captain James Cook was killed in an altercation with Hawaiian natives.  Forty-five years later, in Hanalei Bay off the island of Kauai, the most famous pleasure yacht of the age was wrecked on a reef. Known as 'Cleopatra's Barge', the boat had been built in 1816 by George Crowninshield, the wealthy owner of a Massachussetts shipping business. It had sailed to the Hawaiian islands in 1820, and been sold to the Hawaiian King Kamehameha II.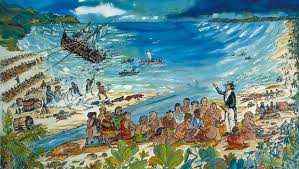 Amazingly, it seems that there was one man who served on ship with James Cook who also was a crew member on the ill-fated Cleopatra's Barge. Even more surprising is this man's origins – he was a black man named William Chapman, who in 1776 had signed on in England as a young member of James Cook's crew. Forty years later, William Chapman was serving as the cook on Cleopatra's Barge.
Born in England, Chapman was something of a curiosity to the American crew of Cleopatra's Barge. In his journal of the voyage to the Mediterranean in 1817, George Crowninshield mused on the particular character traits of "our cook born in freedom". Not only was Chapman an excellent organizer of all events and necessities on board, he impressed everyone with the range of his knowledge and experience. He told fascinating stories of living in Hawaii after Cook's voyage there: "this man lived three years in Owyhee, where he took a wife, according to the customs of the country. He is an intelligent fellow … and has given many interesting particulars of the manners, customs, religion, history, state of learning, etc. of the people."
Whether or not his official responsibilities on the Cook expedition included work in the kitchen, the observant Chapman would have learned some innovative culinary skills onboard James Cook's ships. Cook was famous for bringing fresh produce aboard at his stops and encouraging his sometimes reluctant crew to eat new things that he believed would help to keep them healthy. In Hawaii, he had brewed beer from sugar cane and ordered that the rum supplies be saved as long as there was cane beer on hand.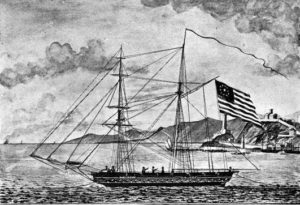 Chapman also acquired considerable knowledge of navigational techniques during his years of seafaring. In 1817, Cleopatra's Barge became the first American pleasure craft to traverse the Atlantic. Once in Europe, the ship made stops to allow visitors to come on board and examine the famous luxury yacht. One such visitor was Franz Xaver von Zach, a prominent German astronomer, who boarded the boat in the port of Genoa. Zach described the experience in a letter. He was initially especially interested in the skills of the ship's navigator, particularly his ability to determine longitude by lunar observations. But what really astounded him was the ship's cook, who, he was told, "could calculate longitude quite well, and his taste for it frequently led him to do it. … This cook had sailed as a cabin boy with Captain Cook on his last voyage round the world, as was acquainted with several facts relating to the assassination of that celebrated navigator." Chapman was summoned from the kitchen and told to answer the questions posed to him by the visiting astronomer. Standing there "with a white apron around his waist, a fowl in one hand, and a carving knife in the other," the cook proceeded to accurately describe the methods he had learned and the books he had studied. After further discussion the cook and the astronomer together poured over Chapman's notes: "I saw all the calculations this negro had made on the passage, of latitude, longitude, apparent time, etc. He replied to all my questions with admirable precision, not merely in the phrases of a cook, but in correct nautical language."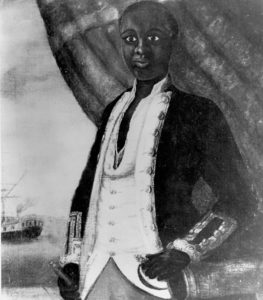 We do not know what became of the remarkable William Chapman after the boat on which he served as cook was sold to King Kamehameha II. Chapman already had lived in Hawaii, and knew the route that Cook had taken from England. There is some evidence that he sailed with Cleopatra's Barge on its voyage from America to the Pacific in 1820, because some Russian visitors who visited the ship in Hawaii noted an "African servant offering drinks" onboard.
Chapman certainly had managed to navigate his own path very well up until then. I like to think that he ended his days in comfort on a tropical island, serving as skipper on a pleasure boat of his own, and studying the night sky.
Illustrations: The Death of Captain Cook, by Herb Kawainui Kane; The Wreck of Cleopatra's Barge, by Richard Rogers; Cleopatra's Barge in Genoa Harbor, sketch by Benjamin Crowninshield, Jr.; Portrait of an African American Sailor, c. 1780, artist unknown.
For further reading: Paul F. Johnston, Shipwrecked in Paradise: Cleopatra's Barge in Hawai'i (2015)