Adrienne Mayor (Regular Contributor)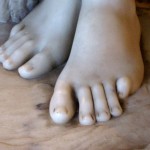 A foot fetish is a sexual attraction to naked feet. Of non-genital body parts, feet are the most fetishized. Not only is foot worship, podophilia, surprisingly prevalent, but it is a very ancient phenomenon. The earliest literary evidence comes from a set of 64 brooding, obsessive "Love Letters" composed in the second century AD; authorship is uncertain but the work is sometimes attributed to Philostratus. The love letters are bisexual, addressed to women and male youths.
Letter 18 "To a Barefoot Boy," for example, insists that only the elderly, lame, and infirm need to wear slippers, sandals, and boots–and anyway leather tends to pinch, blister, and disfigure one's feet. "Why don't you always walk barefoot? . . . Let nothing come between your naked foot and the earth." The dust will welcome your tread, declares, the lover, who vows to kiss the boy's footprints and goes on to rhapsodize on the perfect shape of the beloved's feet, comparing them to "new and strange flowers sprung from the earth."
"Do not ever wear shoes!" the lover demands in Letter 36 "To a Woman." Leave your feet bare like your neck and face, he pleads, without any cosmetics or adornments, not even chains of gold or silver. Be like silver-footed Thetis and newly born Aphrodite strolling barefoot on the shore. "Do not torture your feet, my love, and do not hide them . . . walk softly and leave prints of your own foot behind you, for those who would love to kiss them."
Freud, true to his own obsessions, believed that sexualization of feet arose because they looked penis-like. But modern brain studies point to a neurological explanation for podophilia. In the human brain's body-imaging map, feet and genitalia are adjacent areas. According to neuroscientist Vilanayar Ramachandran, director of the Center for Brain and Cognition, University of California, San Diego, foot fetishes appear to result from "cross-wiring in the brain between the two body parts."
About the Author: Adrienne Mayor's most recent books are The Amazons: Lives and Legends of Warrior Women across the Ancient World (2014) and The Poison King (2010).