by Rachel Mesch, Wonders & Marvels contributor
There is perhaps no artifact more telling of the nineteenth-century French imagination than the popular journal Le Tour du Monde ("Around the World"), a biweekly collection of travelogues launched in 1857 by journalist and publisher Edouard Charton. Long before most readers could dream of embarking on long distance travel, Le Tour du Monde provided virtual tours of far-off lands around the globe through detailed narratives written by intrepid explorers. As with Charton's previous venture, L'Illustration, which would go on to provide up-to-date news animated by vivid visuals for over a hundred years, Le Tour du Monde was rich with images — from life-like sketches to haunting photographs by the century's end.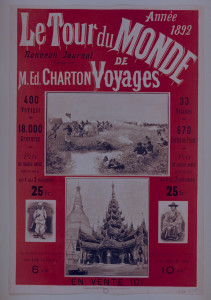 You will no doubt recognize some names from the all star roster of bylines that graced the pages of this publication: Charles Darwin; Sir Richard Francis Burton; Anthony Trollope; Pope Pius X (when he was still Giuseppe Sarto), to name a few. Darwin's tales from his trip to the Galapagos appeared in 1861, thirty years after his by then famous naturalist voyage had departed on the HMS Beagle and inspired his groundbreaking scientific theories. Most other dispatches were published two to three years after the traveler's return.
No matter: for the nineteenth-century armchair traveler, the slim dozen-and-a-half page pamphlets were gripping accounts of encounters otherwise unimaginable, welcome details of lives and landscapes that expanded one's perspectives on the world. Before handheld cameras, before the internet, before distance travel was possible for all but the privileged few, to explore the world was a form of cultural heroism: the authors had often survived extremely dangerous conditions in order to explore new frontiers and translate them into words and images. It was here that readers encountered the recently discovered source of the Nile River, and where Jules Rouch (under the pen name M. Clément Alzonne) offered some of the first first-hand impressions of Antarctica.
Le Tour du Monde is a telling artifact also because it reminds us of the role of the nineteenth-century mass press in the dissemination of new knowledge; of how it helped such knowledge to become a new form of entertainment; and of how the lines between science and fiction blurred in the process, even—and perhaps especially—in pages filled with seemingly straightforward details, ethnographic accounts, graded maps. Indeed, at a time of exponential cultural change—the moment when modernity was simultaneously happening and being invented as a concept, Le Tour du Monde refracts a cultural thirst for new and unknown places while also all too vividly reflecting its dangers. Seen through these pages, the nineteenth-century world expands and shrinks simultaneously: everything outside of France, from Ireland to the Americas to the Far East to Africa, is treated with the same exoticizing eye.
Perhaps most startling is the perspective on our American nation as a foreign land to be explored as any other: in one issue a visit to California records the mechanics of gold-mining alongside images of Chinese workers; the same issue couples this California adventure with a report from Athens, Greece. Sir Richard Burton reports on central Africa in one volume and the Mormons of Utah in another.
Nascent nineteenth-century prejudices and obsessions—from orientalism to colonialism to ethnocentrism–come together in these efforts to apprehend the Other in what proves to be staggeringly multiple forms, even as writers seek to erase their own presence in order to offer a "scientific" vantage point. Native species—plants and humans—are catalogued meticulously; maps are drawn, habits are described. And that air of science may be what is most dangerous of all: the very thing that authorized travelers like Arthur de Gobineau, who documented his 1859 travels to Persia for the magazine, to lay the seeds for his theories of racial superiority alongside anodyne descriptions of temples and unpaved roads; it may also have been the thing that prepared thousands of French readers who had devoured those travel accounts to accept such racial theories as truth.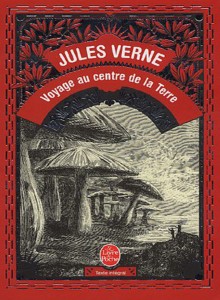 Of course, Le Tour du Monde captures not just the demons of nineteenth-century colonialism, but also the dreams and fantasies of a generation, the excitement of a culture eager to learn and discover. Ethnology, sociology, archaeology, and biology appear in these pages as related nineteenth-century sciences driven by travel. And of course, there is the storytelling. As we read, we encounter the dreams that inspired Jules Verne to imagine his various fictional trips—Around the World, Under the Sea, to the Center of the Earth. Again and again we come into fresh contact with a passionate desire to know— through the eyes of the bold voyagers who ventured far in order to find out for themselves.

To scroll through digitized versions of the journal yourself, go to the database Gallica.fr.
Bric-a-brac-o-mania is a monthly column on nineteenth-century literary, visual, and material culture edited by Rachel Mesch.