by Elizabeth Goldsmith (Regular Contributor)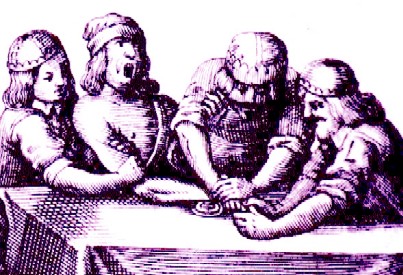 Lately, I've had a lot of time to think about fractured bones. I broke my shoulder and ankle in a ski accident in February. During the long immobile days and weeks that followed, I tried to find ways to minimize self-pity, and one of those was to appreciate that I do not live in the seventeenth century.
I write about travelers who lived in that era, and I have often wished I could time-travel there. But not with a fractured shoulder. And fractured bones were not uncommon experiences for the people I study, who spent a lot of time on horseback, in carriages, or on ships – all means of transportation fraught with physical danger.
The only way to detect a fracture was to see it, feel it, or hear it.  The great physician Ambroise Paré writes in his medical treatise that one must "handle the part which is suspected to be broken, and feel for pieces of bone severed asunder, and listen for a certain crackling of the pieces under our hands, caused by the attrition of the shattered bones."
Here is a helpful illustration for one method of correcting a shoulder dislocation, from Guido Guidi's popular sixteenth-century medical manual: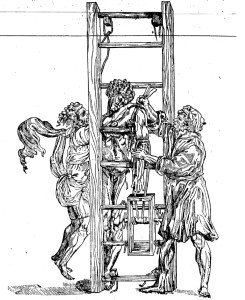 Treating bone fractures or dislocations often required strength on the part of the physician. Family members would be enlisted to help out. I'm glad this wasn't a scene that had to be enacted in my household: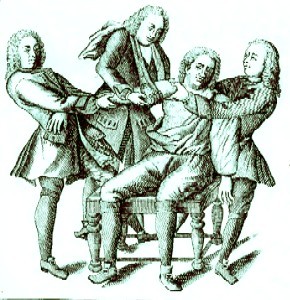 If you don't need surgery to correct a bone fracture, though, the methods of treatment today are not all that different from what they were hundreds of years ago. Basically, the bone needs to be forced, put, or otherwise find its own way back into alignment (with the help of painkillers if you are lucky – codeine today, laudanum in the old days). The injured limb must be immobilized for at least a month, to allow healing and prevent further injury. Ambroise Paré lists the three most important steps in curing a broken bone: "First, restore the bone to its place. Second, contain or stay it being so restored. Third, prevent the increase of malign symptoms or accidents … including pain, inflammation, fever, abscess, and gangrene."
This illustration of bed rest is pretty much how I tried to sleep for the first month, with pillows around my splinted ankle instead of curved bars over the bed: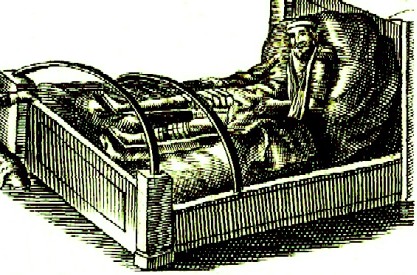 Today, what comes next in the long recovery phase is the stretching, pulling and bending imposed by a physical therapist if you want to be able to regain your lost mobility and strength. Medical manuals from antiquity through the 19th century don't say much about this phase, so I can only assume that recovery from a shoulder fracture often meant that you were permanently hunched and stiff for the rest of your short life.
Still, despite the enlightened modernity of physical therapy, to the patient it can seem medieval. When I was at a recent session, another patient brought in this cartoon: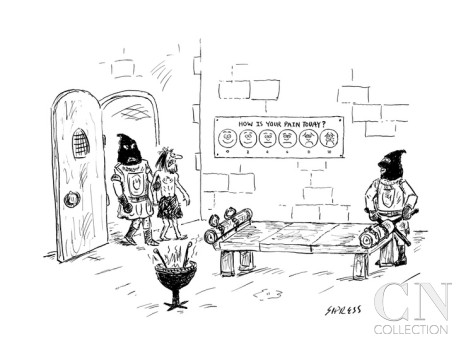 As Paré noted in his manual, it helps the healing to maintain good spirits. Those with a melancholic temperament have a harder time of it.
Illustrations from Armanemtarium Chirugicum Bipartitum by Johannes Scultetus (1666); Chirurgia è graeco in latinum conversa, by Guido Guidi (1554); A General System of Surgery by Lorenz Heister (1770); The Chyrurgeons Storehouse, by Johannes Scultetus (1653); New Yorker cartoon by David Sipress (2015).
For further reading:
Ambroise Paré, The Works of that famous Surgeon, Ambroise Paré, translated by Th. Johnson (1678).
Leonard Peltier, Fractures: A History and Iconography of Their Treatment (1990).