Adrienne Mayor (regular contributor)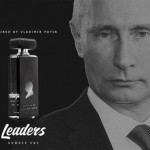 In January 2016, a new men's fragrance went on sale in Moscow's luxury department stores. Called "Leaders Number One," the cologne was inspired by Russian strongman Vladimir Putin. The creation of Belarus perfumer Vladislav Rekunov, the scent comes in a sleek black flask decorated with Putin's distinctive profile.
Selling for about 6,000 rubles (£57 or $95) the cologne is described as "not aggressive" but firm, attractive, warm, down-to-earth, and natural. The smell is a medley of pine cone, lemon, bergamot, musk, black currant, and, oddly enough, mung beans, often characterized as having a sour, "old man" whiff. The scent is intended to reflect Putin's personality if not his personal body odor.
Test marketing indicates that the fragrance appeals more to women than to men.
Long before the discovery of pheromones and their role in sexual attraction, handkerchiefs suffused with perfumes or the essence of the beloved were treasured keepsakes. It was said that Henry VIII kept a handkerchief in his armpit and presented this perspiration-infused token to women he fancied as a flirtation ploy.
The notion that a sweet smell of success wafted from the bodies of alpha males can be traced back to the time of Alexander the Great. In his biography of the young world conqueror, Plutarch claimed that Alexander's body gave off a pleasant, honeyed fragrance enjoyed by his closest companions.
With such a venerable history and now the bold debut of Putin cologne, is the world market ready for more essences inspired by great heads of state in the "Leaders Number One" perfume line? The possibilities are heady.
About the author: Adrienne Mayor is the author of The Poison King: Mithradates, Rome's Deadliest Enemy, a nonfiction finalist for the 2009 National Book Award, and The Amazons: Lives and Legends of Warrior Women across the Ancient World (2014).