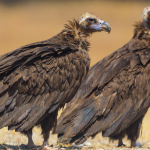 by Adrienne Mayor (regular contributor)
Vultures were often the first responders to the carnage of war. The great birds of prey could be seen wheeling over battlefields to feast on the dead and dying. Scavenging vultures learned to follow ancient armies on the march in anticipation of a banquet of carcasses.
When the famous Roman commander Marius (157-86 BC) was leading campaigns against the Germanic tribes (the Cimbri, Teutones, Ambrones) in Europe, two vultures made a habit of hovering over his armies as they marched to victories.
One day, the troop's blacksmith forged two bronze collars and the soldiers managed to capture the pair of vultures with nets. The men placed the metal bands around their necks and released their new mascots. Ever after, whenever the soldiers spotted the birds and saw the collars flashing in the sun, their spirits were raised and they would cheer their soaring escorts. Vultures had been good omens since the founding of Rome. The vulture pair boosted the army's morale–they were taken as an omen that the Romans would be victorious and that their vulture escorts would soon feed on the corpses of the enemy.
This anecdote describing the earliest documented bird banding was first reported by the zoological historian Alexander of Myndus and cited by Plutarch in his Life of Marius.
European vultures are solitary or in pairs; they are very intelligent, monogamous, and mate for life as equal companions. The vultures banded by Marius's men were probably a male and female. Vultures can live 40 years; the wingspans range from 7 to 10 feet. The birds were not described as tame pets, but it is easy to imagine the Roman soldiers setting out food near camp or while on the march to seal a bond between the army and the raptors. There were several species of vultures in Europe during the Roman period: possibilities include griffon vultures (Gyps fulvus); cinereous or black vulture (Aegypius monachus), bearded vulture or lammergeier (Gypaetus barbatus).
About the author: Adrienne Mayor is the author of "The Poison King: Mithradates, Rome's Deadliest Enemy," nonfiction finalist for the National Book Award, and "The Amazons: Lives and Legends of Warrior Women across the Ancient World" (2014), shortlisted for the London Hellenic Prize.