By Thomas Parker (regular contributor) and Ashley Rose Young (guest contributor)
If you passed by the French Market in nineteenth-century New Orleans, you would have heard street vendors calling out with musical voices, "Calas, belles calas, tout chaud!"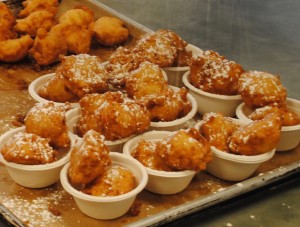 Calas were a popular Creole street food made from a batter of day-old rice, eggs, sugar, and wild yeast transformed into a deep-fried delicious pastry covered with powdered sugar and sometimes dusted with cinnamon and other aromatic spices. Calas were most often sold in the streets by either enslaved women or free women of color, advertising their wares with cries what were later qualified as "enchanting songs."
Preparation of the batter began days in advance, allowing natural yeasts to ferment and give the rice batter a slightly sour taste akin to the sourdough breads of Europe. Similar fermented flavors were popular in West Africa. Such dishes, as culinary historian Jessica B. Harris notes, include the buttermilk-like lar and tchiakri of Senegambia, which are allowed to ferment and take on a similarly sour taste.
Sundays were the largest food marketing days in New Orleans, a day that slaves normally had "free" in order to observe the Catholic Sabbath. Enslaved people, however, did not divest themselves of work on a day that was defined by rest and religious observation. Instead, they harvested fresh fruits and vegetables from their gardens or prepared foods to sell in the street in an attempt to make a little money. After attending to their spiritual lives in church, a diverse body of New Orleanians flocked to the city's markets for a different, sweeter kind of solace.
The flavors and images of calas were as alluring as the sounds of the vendors cries were captivating. Indeed, the gustatory and visual imprint on the collective imagination of New Orleans' market landscape in the nineteenth century were almost second in importance to the sound, and all of them together created an enticing mix of the familiar and exotic. Calas vendors reinforced images of comfort and tasty goodness. Yet, they were also widely construed as possessing a foreign, exotic (Créole), and sometimes sexualized voice.
The call of calas vendors, as described in travel narratives, novels, and folklore compendiums, came to symbolize all that was foreign (e.g. not American) about New Orleans. Black women's voices were therefore part of a set of sights, sounds, smells, tastes, and textures employed primarily by white male authors to cast New Orleans as distinctly different from other American port cities and their food cultures.
Calas have today disappeared from the New Orleans streets, but were a part of the NOLA landscape well into the twentieth century, playing an important role in the city's food history, as well as its history of social justice.
The revenues from the calas allowed women to support their families, and sometimes buy freedom, but also led to their marginalization. By bringing sweetness to whites, the women became associated with images of the black mammy figure, a woman who tirelessly cared for the children of white families in the old South. Seemingly innocuous, the stereotypical images of smiling black women—not unlike the Aunt Jemima that would later be used to sell maple syrup—erased the intense labor and the incredible culinary ingenuity demonstrated by New Orleans' African and African American food entrepreneurs.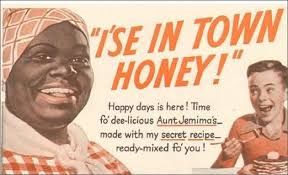 One might say that the road to freedom through calas sales came at a price. As women worked to liberate themselves and their family members through the sale of calas, successive generations of clients nostalgic for olden times reinforced a two-dimensional stereotypical identity of the women steeped in romanticized images of the pre-Civil War slaving South. The history of this sweet street food is not entirely sweet.
Click here for a calas recipe