By Helen King (Regular Contributor)
My department's blog this month features a Christmas special on gifts for classicists. I've been singled out as particularly weird because my choice was a teddytaur: a disturbing combination of teddy bear and horse. But I've been interested in mythical hybrids for a long time, and I reckon the teddytaur is a particularly satisfying example because the reassuring cuddliness of a soft toy may seem to sit painfully with the character traits of many centaurs in myth. And, as Lisa Maurice has recently reminded us, centaurs have long featured in children's fantasy literature; to many children, they're as familiar as a teddy bear.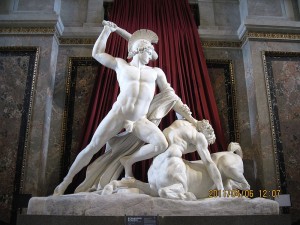 It's important to remember that there were different types of centaur in ancient myth, and most of them weren't cuddly at all. Almost all were aligned with the bad side of humanity; the bestial side, which emerges after too much to drink. In another post on this site, Laura Auricchio pointed out that when the Marquis de Lafayette was depicted as a centaur, this was partly a way of saying he'd spent so long on his horse that the two had merged, but partly a way of showing him as a dangerous character.
In classical myth the Centauromachy, or Lapith Wedding (a label which, for Game of Thrones fans, will recall the infamous Red Wedding episode, which starts with what IMDb euphemistically calls 'considerable tension between the two families'), happens when the Thessalian king Pirithous and his people, the Lapiths, celebrate his marriage to Hippodamia. The centaurs, invited to the party, don't behave in a civilized way. One gets drunk and tries to abduct the bride, and the party degenerates into a riot. The hero Theseus, a friend of Pirithous, manages to drive off the centaurs. Why invite the centaurs in the first place? Because they're family, related by blood to Pirithous. We've probably all been to weddings where existing family tensions got a little out of control under the influence of alcohol!
But there's another side to centaurs. It's not exactly cuddly, but it's positive. In ancient Greek myth, a particular centaur called Chiron was associated not with violence, but with healing. He is supposed to have educated many of the Greek heroes, and he taught the use of medicine to Asklepios himself. Unlike the other centaurs, he was born immortal, and again unlike them, he is shown wearing human clothing.
Who's the daddy?
Why were these centaurs so different? Well, part of it relates to their parentage. While the centaurs at the Lapith Wedding were descended from Ixion, after he attempted to rape Hera but instead landed on an unfortunate cloud which resembled this goddess, Chiron's father was Chronos and his mother was a nymph who'd been having sex with him but was caught in the act by Chronos's wife Rhea; Chronos turned himself into a stallion in the hope Rhea wouldn't recognize him. However, in an even less benign version of the myth, the horse element comes from the nymph turning herself into a mare to avoid Chronos's lusts. Other centaurs too are associated with rape; for example, Nessus, who tries to rape Herakles' wife Deianeira.
My own favourite version of the centaurs – other than teddytaur – has to be the Xena Warrior Princess episode 'Is there a doctor in the house?'. Here, Xena helps an Amazon married to a centaur – a great marriage, two anomalous figures of ancient myth united – to give birth, to a baby centaur. In a particularly fine mixture of anachronisms, both Hippocrates (5th c BC) and Galen (2nd c AD) work at the same healing shrine of the god Asklepios although, as Marquis Berrey has pointed out, Galen is on record as writing that centaurs were impossible.
Centaurs: dangerous reminders of the bestial side of the human race, or wiser than us because of their combination of two identities in one body? Two natures, with all the uncertainties of which is dominant, or a perfect merger which is a source of power? Other half-human, half-animal creatures of myth gain their power  by bridging various divides. They are guardians of treasure, able to live in both land and sea, wardens at the boundary of life and death, sometimes seductive (think mermaids), sometimes repulsive (think harpies). Teddytaur's cuddly but disturbing mix of the soft fur and friendly face of a favorite toy with the body – and hooves – of a horse just takes it all one step further. Is he the perfect guardian for a small child? Or is he a step too far?
More reading:
Helen King, 'Half-Human Creatures' in John Cherry (ed.), Mythical Beasts (London: British Museum Press, 1995), 138-167.
Lisa Maurice, 'From Chiron to Foaly: The Centaur in Classical Mythology and Fantasy Literature' in Lisa Maurice (ed.), The Reception of Ancient Greece and Rome in Children's Literature: Heroes and Eagles (Leiden: Brill, 2015), 139-168.