By Elizabeth C. Goldsmith (Regular Contributor) and Arthur Goldsmith (Guest Contributor)
Following its War of Independence, the United States' first international armed conflict was in North Africa. The security issue was interference with U.S. merchant shipping from pirates or corsairs who operated out of ports in the Barbary states. With tacit or explicit local political backing, the pirates seized cargo and captured crews and passengers, who could be held hostage or sold in the Ottoman slave market.
The threat was not new, but American commercial vessels in the Mediterranean had seldom been bothered due to treaties negotiated by the Crown and enforced by the Royal Navy. After 1783, however, any ship flying the Stars and Stripes was at risk. In that year alone, eleven U.S. commercial vessels were taken. The young democracy tried to arrange its own pacts with local Arab rulers, but these agreements proved unstable and subject to escalating demands from the other side.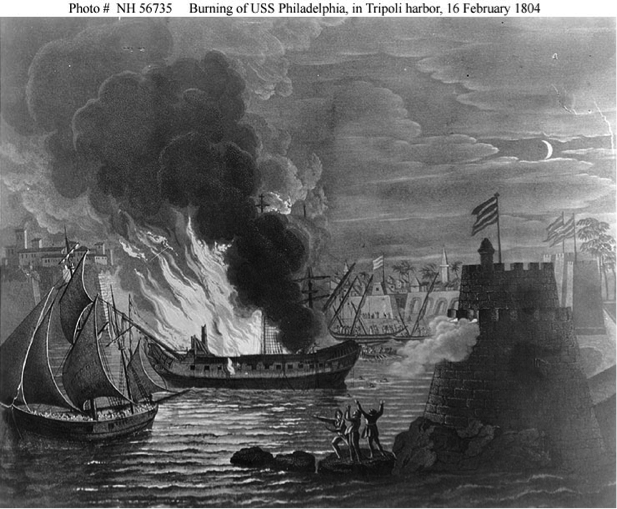 With diplomacy seemingly going nowhere, recently elected President Thomas Jefferson in 1801 dispatched warships to the region to blockade strategic points along the North African coast and strengthen his bargaining position. A crisis occurred in 1803 when a U.S. man-of-war ran aground near Tripoli and its crew was imprisoned. A daring raid by American forces destroyed the frigate before it could be refitted by the pirates for their use. Combat operations ended with the Treaty of Tripoli in 1805, which secured the release of all remaining hostages and guaranteed free passage for American ships. But hostilities broke out again a decade later. The regional threat of piracy was not fully eliminated until France's annexation of Algeria in 1834.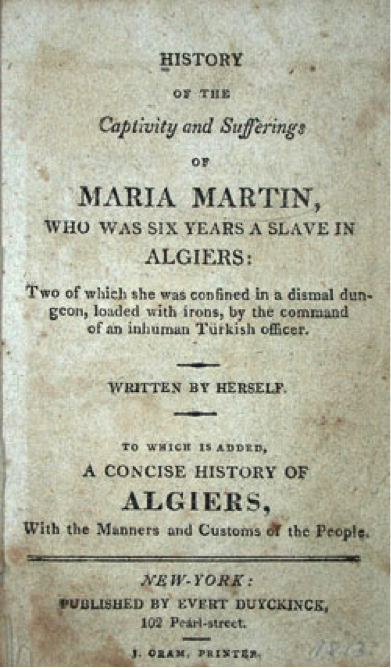 Given the context, it is not surprising that Barbary captivity narratives had wide readership in early nineteenth-century America. There was already a large European literature on this topic, but two notable titles with American protagonists were History of the Captivity and Sufferings of Mrs. Maria Martin (1806), and The Captives, Eleven Years a Prisoner in Algiers (1899), a first-person account by James Leander Cathcart. Although the second book was published posthumously, the story was well-known at the time of the events. Barbary captivity narratives such as these both reflected and contributed to the political climate backing military intervention in North Africa. But were they true?
Maria Martin writes vividly of her ship's capture near the Rock of Gibraltar in 1800. "The corsair came along side, and in less than three minutes, more than half her crew boarded us, sword in hand…The barbarians were no sooner on board, than they began their favorite work, cutting, maming [sic] and literally butchering, all that they found on deck." She was later sold as a slave, chained, imprisoned, fed a diet of bread and water, and eventually ransomed. This harrowing adventure, however, appears to have been made-up and largely plagiarized from an earlier and equally suspect narrative about a kidnapped Italian woman, The Captivity and Sufferings of Mary Velnet (1804).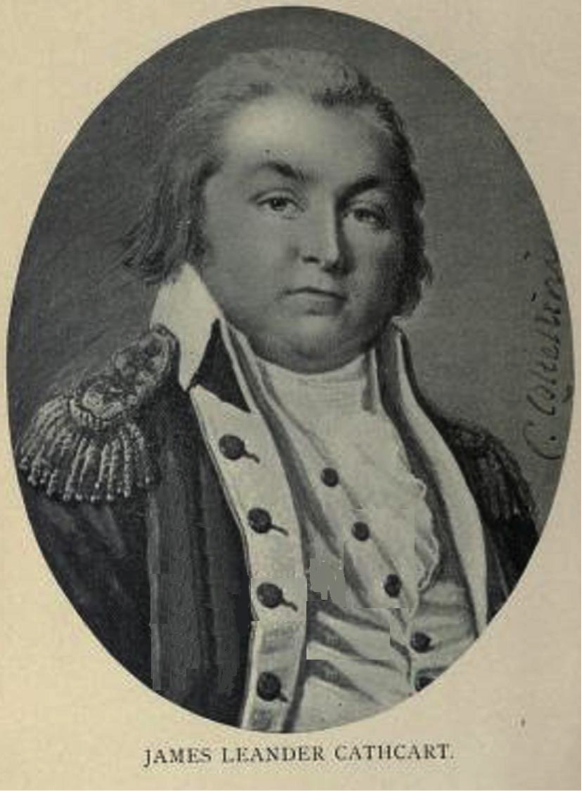 Similarly sensational is James Cathcart's Algerian journal. A junior officer, he was captured on the high seas by Barbary pirates in 1785 and subsequently enslaved. While kept in harsh conditions, he had relatively light duty in the palace of the ruler of Algiers caring for exotic animals in the palace zoo. Bright and adept at languages, Cathcart worked his way up to become a clerk in the local marine service. With his earnings, Cathcart purchased several taverns as well as a local residence with servants. He helped to arrange a treaty for the release of his shipmates, and in 1796 was able to acquire a ship and sail back to the United States with several of his fellow ex-slaves.
This story sounds farfetched, but subsequent events suggest Cathcart may have had the talents needed to pull it off. He returned to North Africa as a special envoy in 1798. Four years later, he was appointed to the consulates in Tunis and Tripoli, where he participated in the negotiations to resolve the First Barbary War. Cathcart also served as Consul-General for the United States in Cádiz from 1807–17. He finished his career in the United States Treasury.
Arthur Goldsmith is Professor Emeritus at the University of Massachusetts Boston. His current research interests are African politics, democratization, and international relations.
Additional reading: Paul Baepler, White Slaves, African Masters: An Anthology of American Barbary Captivity Narratives. (University of Chicago Press, 1999); Khalid Bekkaou, White Women Captives in North Africa: Narratives of Enslavement, 1735-1830 (Palgrave Macmillan, 2011).