By Juliet Wagner (Regular Contributor)
Contrary to the confident predictions of August 1914, the war was not over by Christmas. The killing would persist through Christmas 1914—the famous "Christmas Day Truce" on one battlefield in Belgium notwithstanding—and for another three Christmases, before the armistice brought the conflict to an end in November 1918.
The Baden-Württemberg "Haus der Geschichte" (History House) in Stuttgart is currently hosting a wonderful special exhibition on "Das Friedensfest in Kriegszeiten" (The Festival of Peace in Times of War), to accompany its larger exhibition, "Fastnacht der Hölle" (Carnival of Hell), on the First World War and the senses. The special exhibition, which runs until January 11, 2015, is presented in the form of an advent calendar, with 24 display boxes arranged in rows, each showcasing a different artifact or document relating to Christmas and the First World War in the Baden and Württemberg armies. It is also broadly chronological and emphasizes the increasing tensions and fatigue as the war progressed. The sentimental postcards produced for Christmas 1914, depicting divided but optimistic families, already struck a naïve note a year later.
One of the most touching displays (#3) contains a child's drawing of Christmas trees, peppered with shrapnel holes. The drawing belonged to Reserve Lieutenant Karl August Zwiffelhoffer, who received an "unexpected Christmas vacation" in November 1916 in order to attend his uncle's funeral. He took this picture, drawn by his four-year-old daughter, Annie, back to the front with him. It was folded in the breast pocket of his jacket when he was killed by shrapnel on May 4, 2017, in the bloody 'Chemin des Dames' offensive. Although his effects were returned to his widow, she could not bring herself to open the box in which they were delivered, and the uniform jacket and its contents were not discovered until Annie moved to an old people's home decades later and her daughter went through her belongings.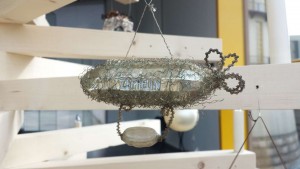 Other display cases contain: orders of service from battlefield worship; children's Christmas wish lists, requesting cigars (presumably to send to the troops); Christmas postcard advertisements for Bahlsen cookies; a haunting acquatint etching of a Stuttgart soup kitchen at Christmas by the artist Reinhold Nägele; Steiff soldier dolls; home-drawn Christmas cards, depicting life on the home front; and military Christmas ornaments, like this Zeppelin Christmas tree decoration.
 Additional Resources:
A brief video of the special exhibit by local region tv is available on their website (commentary in German): http://www.regio-tv.de/video/343043.html
There is a slide-show of selected artifacts on the SWR website:
http://www.swr.de/landesschau-aktuell/bw/stuttgart/ausstellung-im-haus-der-geschichte-stuttgart-das-friedensfest-in-kriegszeiten/-/id=1592/nid=1592/did=14610614/o6vjb2/index.html
For more information on visiting the exhibition (open Tuesday-Sunday, until January 11, 2015), see: http://www.krieg-und-sinne.de/besucher/
Entry to the exhibition (including the special Christmas side-exhibit described here) costs 3 Euros for adults, and the Haus der Geschichte is walking distance from the main Stuttgart train station. The special exhibition alone is worth the walk and the entrance fee.
This post was first published on Wonders & Marvels in December 2014.