by Adrienne Mayor (regular contributor)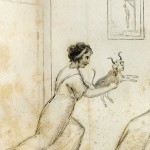 Smallpox was a devastating epidemic until Edward Jenner realized that milkmaids were immune to the disease. The "father of immunology" theorized that cowpox, a similar but less virulent disease contracted from cows, protected the milkmaids from smallpox. His hypothesis was tested successfully in 1796 and vaccinations began soon thereafter.
But great controversy and fear swirled around inoculations with cowpox. Opponents of vaccination spread scare stories about Jenner's method.
The most sensational claim was that the introduction of material from cattle into humans would cause people to develop bovine features. A famous cartoon titled "The Wonderful Effects of the New Inoculation" by the satirist James Gillray was published by the Anti-Vaccine Society in 1802. The scene at London's St Pancras Hospital depicts vaccinated men and women with horns erupting on their foreheads and bulls, cows, and calves bursting out of their mouths, eyes, ears, noses, arms, and buttocks. A painting on the wall shows the Israelites worshipping the Golden Calf.
Dr. Benjamin Moseley, Royal College of Physicians, issued lurid warnings implying that the cowpox vaccine contained bovine venereal disease. "Can any person say what may be the consequences of introducing the Lues Bovilla [syphilis of oxen], a bestial humour, into the human" body? In Moseley's 1800 anti-vaccination tract he also alluded to ancient Greek mythology, namely the stories of Pasiphae and the Minotaur. Pasiphae was a queen of Crete who formed a perverse desire to mate with a bull. In the myth, Pasiphae's lust was satisfied and she gave birth to a monstrous infant with a bull's head and a human body–the Minotaur. An ancient Greek vase painting depicts Pasiphae holding the baby Minotaur on her lap; she looks reluctant to nurse her son.
"Who knows," continued Moseley, but that "the human character may undergo strange mutations" replicating the nature of cattle? Moseley went on to suggest that a vaccinated lady risked becoming a "modern Pasiphae to rival the fables of old," and warned of vaccinated women wandering in cow pastures hoping to have sex with bulls. Another physician, Dr. Thomas Rowley, went so far as to claim that an "ox-faced baby boy" had actually been born to a vaccinated woman. A cartoon showed an alternative shock scenario, a midwife presenting a newborn calf with a baby's horned head to the vaccinated mother.
By the 1840s Jenner's vaccine had become widely accepted and his work is often said to have saved the lives of more people than any other medical discovery.
About the author: Adrienne Mayor is the author of The Poison King: Mithradates, Rome's Deadliest Enemy, a nonfiction finalist for the 2009 National Book Award, and The Amazons: Lives and Legends of Warrior Women across the Ancient World (2014), shortlisted for the London Hellenic Prize.