By Michael Garval (Guest Contributor)

When my father died in 1995, my mother gave me a small, rectangular box containing a miniature Torah scroll tied round with a white silk ribbon. It was my father's 1949 bar mitzvah menu, with information on the Newark, New Jersey venue; insets of the Ten Commandments, five on each side; a black and white photo of Dad at 13, serious in his suit jacket and floral tie; and haphazardly-spelled items like "hors d'ouveres" or "Baked Ontario Whitefish a l'Espagnole," homey "Stuffed Derma" amid the fancified French offerings, and "Cafe Noir," a classy, kosher way to end the meal in a pre-Coffee-Mate era.
As it turns out, my heirloom was an emblematic example from the tail end of an international illustrated menu vogue that began in the nineteenth century. Capitalizing on the collecting craze that accompanied this vogue, menus were often designed as keepsakes, reminders of special occasions and family milestones.
An illustrated menu from 1909 provides an intriguing example. Printed on what looks like a postcard, it commemorates a silver anniversary celebration in Valréas, a small town in the Vaucluse. Comic vignettes surrounding the bill of fare depict the local landscape, as a little scullion chases fowl with a big knife or, in the foreground, the elegant couple and their friends dance with arms joined.  Most of the illustrated material is drawn, but with photographs of the figures' heads inserted. While the guests gaze outward, the husband and wife look lovingly at each other.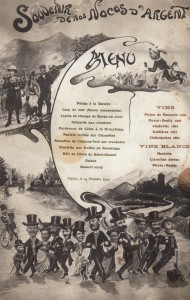 Who were they? Their formal attire, the refinement of the dinner, plus the expense of this elaborately-wrought souvenir, indicate a couple of some means. And the exuberant art nouveau type used for the titles, like the swirling lines framing the bill of fare, suggest style and sophistication.
These folks and their pals also knew how to have fun. Flashing smiles, they carouse and relish inside jokes: a fellow at far left, striped jersey beneath his evening coat, leans against a bicycle and sticks out his tongue; another, at far right, teeters as he tries to fish his fallen top hat with a walking stick. The vignette at upper left adds a multi-layered verbal-visual gag. Whimsical provisioning scenes abound in illustrated menus, like the little chef chasing birds, and here the couple returns from hunting with a rabbit and wolf, presumably for the anniversary feast. Like M.F.K. Fisher we might wonder "how to cook a wolf," but a pun provides the answer, as the bill of fare includes both rabbit and sea bass—in French, loup de mer or "sea wolf." These animals could also signify sexual initiation and reproduction: in French "to see the wolf" alludes to a girl's loss of virginity, and rabbit is a symbol of fertility. So perhaps the hunting trip acts out the couple's conjugal journey from wedding night through parenthood.
There are no clues, however, about people's identities, save a little cross, marked in pen beneath one figure, referencing a handwritten message on the back:
Guillou Engraver
at Le Portalou
near Postman Rouhet
in St. Jean
beneath the ✗ Louis Guillou, Jr.
This raises more questions than it answers. The first part looks like an old-fashioned, rural address, but the card was never sent (no stamp, no postmark), nor was the otherwise blank, undivided back made for sending (post-1905 backs were divided, and titled "Postcard," with sub-headers indicating spaces for "Correspondence" and "Address"). Why was young Guillou at the party, or at least depicted there? Next to the bride, their arms linked, he seems a close friend or relative. Perhaps the couple's apparent ties to the Guillou family and print shop facilitated or even prompted their choice of a fancy—and fanciful—illustrated menu? Or maybe Guillou wasn't there but, Renaissance style, inserted a self-portrait in the scene, like Botticelli in The Adoration of the Magi. Whether present or not, Guillou might have used the menu as an improvised business card, noting his contact information for someone interested in a similar order.
What about the meal? Belle Epoque banquets probably procured many items locally, but it wasn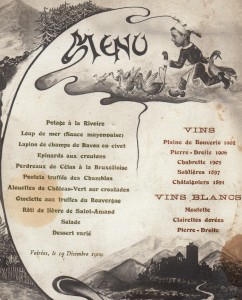 't yet fashionable to highlight their local provenance. In the age of Escoffier, menus as ambitious as this also favored generically French national fare, a bias only mitigated somewhat after World War I by rising interest in regional cuisine. So it's all the more remarkable to find here a resolutely local approach to food and wine. Whether larks from Château-Vert, hare from the Saint-Amand ridge, or truffles from Le Rouvergue, the featured ingredients come from within 120 km., many from within 20. Instead of the holy trinity of Burgundy-Bordeaux-Champagne de rigueur elsewhere, the wines all come from small local producers, identified by domain names, save one white designated by local varietal, "clairette dorée," better known as bourboulenc. And, while we can't know how the food and wine tasted, the menu does exhibit relics from the meal—a grease stain over the food listing and, at far right, beneath the VINS BLANCS section, a red wine stain—inadvertent but tangible reminders of the festivities.
The high seriousness of my dad's bar mitzvah menu befits both a young person's ritual passage into adulthood, and his family's striving toward middle-class respectability. In contrast, the Valréas anniversary menu displays a light-heartedness consonant with an established middle aged couple marking a quarter century of marriage, with all its joys and tribulations, confident enough in who they are to horse around in their Sunday finery, and serve local food and wines rather than more aspirationally national cuisine. But the two menus share a common purpose. Each is doubly commemorative, a family memento masquerading as another sort of collectible, either a faux postcard or an ersatz sacred scroll. Souvenirs of memorable meals, these are artifacts to be cherished.
Michael Garval, Professor of French and Director of the Master of Arts in Liberal Studies Program at North Carolina State University, also serves as Associate Editor of the journal Contemporary French Civilization.  The author of "A Dream of Stone":  Fame, Vision, and Monumentality in Nineteenth-Century French Literary Culture and Cléo de Mérode and the Rise of Modern Celebrity Culture, he is working on a book about the origins of the celebrity chef in post-revolutionary France.