By Sarah Alger (Regular Contributor)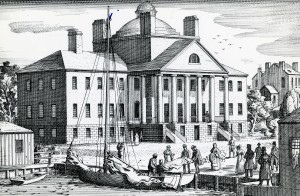 "When in distress, every man becomes our neighbour." So wrote Drs. James Jackson and John Collins Warren in a letter they circulated to their Beacon Hill community in 1810. The physicians' aim: to build a general hospital for Boston. They sought to appeal to wealthy citizens' charitable nature (hence this line, still often quoted here at Massachusetts General Hospital) and to their pragmatism in building a world-class city: Harvard Medical School needed a place for students to train.
In 1811, the Massachusetts legislature granted a charter for what would become Massachusetts General Hospital (also the McLean Asylum). The following year's eponymous war marked a slowdown in fundraising, but progress was made. A prime plot of land, Prince's Pasture (so named not for royalty, but a surname of Prince) was found right next to the Charles River, so that patients could access the hospital both by land and water. The architect Charles Bulfinch, who had already designed the Massachusetts State House, was retained to create a building of granite. State Prison inmates got to work hammering the stone.
It was not until July 4, 1818, that the cornerstone of the building was laid. Under the stone were placed coins and a silver tablet with an inscription, and the ceremony was conducted with Masonic pageantry by the Grand Lodge of Massachusetts. Grand Master Francis J. Oliver, addressing the master builder, noted: "…this building is not to be a temporary pavilion for the display of opulence, splendor, and pride, but a temple dedicated to humanity, a lazar-house built by enlightened Compassion, where CHARITY and PHILOSOPHY are to walk a perpetual round to alleviate misery, and to combat with and destroy disease and pain."  
Over the next few years, what rose from the spot was an imposing four-story Greek Revival building, topped by a dome. In 1821, the hospital was finally ready to receive patients. Who was the first to set foot in this temple dedicated to humanity? A saddler with syphilis (which he had contracted in New York, the record notes).
Now, 197 years later, space is at an extreme premium; nearly every inch of Prince's Pasture has been built upon, and Bulfinch's creation is surrounded by taller buildings. Both of the Bulfinch Building's wings were extended, and the back of the building is now hemmed in by other structures.
No records exist to tell us the exact location of the cornerstone, so lavishly dedicated in 1818. Were those present that day to see what has grown up around it, no doubt they would marvel at the sight.