by Adrienne Mayor (regular contributor)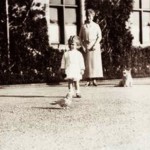 George V (1865-1936) owned an African grey parrot from the Congo named Charlotte. George obtained her in Port Said, Egypt, when he was a young midshipman in the Royal Navy in the 1880s (although some say Charlotte was a pink-grey parrot and a gift from his sister Victoria). Charlotte attended the king's Privy Council meetings. Perched on His Majesty's shoulder as he read through the royal "red boxes," the parrot cast a critical eye over state papers and confidential documents, shouting "What about it?" in a stentorious voice.
When the king fell seriously ill, Charlotte spent hours pacing and muttering "Where's the Captain?" During his convalescence, she was the first visitor the king requested. Charlotte flew to his shoulder and danced and bobbed, exclaiming "Bless my buttons! Bless my buttons! All's well!"
African greys are very intelligent, easily bored, and can be known for behavioral problems. By all reports, Queen Mary despised the bird (she also loathed pigeons–filthy "rats with wings" she called them). But Charlotte's only documented misbehavior was to make breakfasting with the king a bit stressful for guests. She insisted on digging heartily into everyone's boiled eggs. Raw eggs are harmful for parrots but hard-boiled or poached eggs provide a treat. The eggshells and crumbs she scattered across the tablecloth were swiftly hidden from the queen's notice by George, who would discreetly slide plates over them.
A photo of about 1930 shows the king's grand-daughter Princess Elizabeth, about 4 years old, chasing Charlotte on the gravel drive, while Queen Mary, a Cairn Terrier, and a butler look on.
About the author: A research scholar in Classics and History of Science, Stanford University, Adrienne Mayor is the author of The Poison King: Mithradates, Rome's Deadliest Enemy, a nonfiction finalist for the 2009 National Book Award, and The Amazons: Lives and Legends of Warrior Women across the Ancient World (2014).