By Matthew P. Mayo (Guest Contributor)
For as long as I can recall I've been inordinately intrigued by the nefarious deeds of ne'er-do-wells. As a lad I reveled in reading books about sleazy people and the vicious circumstances their willful actions instigated. Years later I find myself writing books about dire situations, daring exploits, and oily hucksters of the lowest order. And I'm having the time of my life.
My latest book (out today, in fact) is Hornswogglers, Fourflushers & Snake-Oil Salesmen: True Tales of the Old West's Sleaziest Swindlers. I spent more than a year in the company of the weasels who populate its pages, researching their misdeeds and finding myself more amazed with each stack of notes I jotted.
As I pieced together their stories, I wondered once more why I am so amazed by the exploits of these rogues. Is it their brazen attitudes? The confidence they exude? Their lack of remorse? Likely, it's a combination of those traits and many others.
It's too easy to say that the moral compasses of these men and women were warped by an off-kilter magnetic force that drove them to depraved depths. The real reasons are legion and more complex than simple explanation will allow. That said, they all shared certain traits.
These bad seeds dared to risk so much of their lives—more than most law-abiding folks could ever dream of risking—to achieve their ends, ends that most often involved amassing power and money, one often leading to the other. But the thing that made me want to write about them is the very thing that marks them as swindlers—their intentional duping of others.
Take Death Valley Scotty, for instance. He was as charismatic and likable a rogue as you were likely to meet. He was also famous for being a trick rider in Buffalo Bill's Wild West show long before he hit on the idea of bilking millionaires out of copious sums of cash as seed money in gold mines that never existed. And his biggest investor continued subsidizing Scotty's lavish life even after he found out he was being conned.
Incredibly, the man he bilked more than any other, Chicago millionaire Albert Johnson, and his wife, Bessie, were so taken by the con man, and by Death Valley itself, that they built Death Valley Ranch (left), more commonly known as Scotty's Castle. They even allowed Scotty to tell visitors they were his hired help.
And then there was Soapy Smith, who bilked and cheated his way for years from the southwest through Colorado and on up to Alaska. There his thieving misdeeds eventually instigated gunplay that resulted in his death, albeit years too late to save thousands of suckers from his swindling schemes.
And let us not overlook Clark Stanley, the self-proclaimed "Rattle-Snake King," and the man for whom the term "snake-oil salesman" was coined. His greasy dealings resulted in a fortune for himself and bottles filled with useless mineral oil for his victims, er, customers.
While writing the book, I realized that every one of the dozens of rascals I profile (a mere sliver of those plying the flimflam trade in the US West of the 19th and early 20th centuries) would not find themselves out of place or, more to the point, out of work, were they operating today. Indeed, we all wade in morally murkier waters today than ever before.
My windy point? Nothing changes. I doubt there's a cure. It's the never-ending cycle of predator versus prey. The best we can do is keep a sharp eye on our backtrail, and trust that the good, hardworking folks outnumber the sleazeballs among us.
Speaking of … I have this book, see, and it's a corker! A real humdinger! So step right up, folks—for a few meager bucks, get yourself a copy of Hornswogglers, Fourflushers & Snake-Oil Salesmen: True Tales of the Old West's Sleaziest Swindlers before they're all gone!
But wait! For a few dollars more you'll be sent a deed, suitable for framing, to shares in a diamond mine. It should prove out any day now….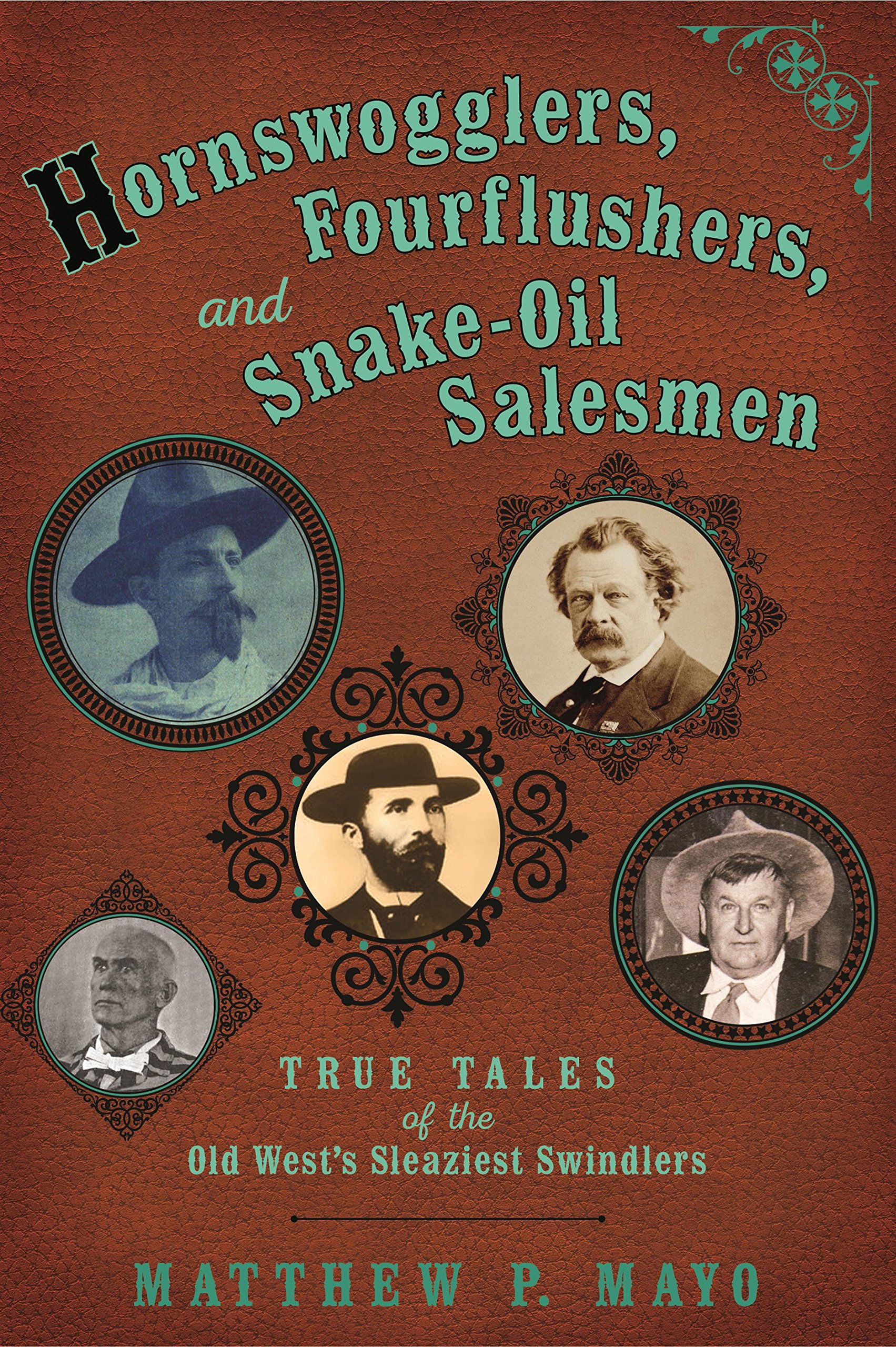 Matthew P. Mayo is an award-winning author of thirty non-fiction books and novels, and dozens of short stories. His 2013 novel, Tucker's Reckoning, won the Western Writers of America's Spur Award for Best Western Novel. Matthew and his wife, photographer Jennifer Smith-Mayo, also run Gritty Press (GrittyPress.com) and rove the world in search of hot coffee, tasty whiskey, and high adventure. Stop by his website for a chinwag.