By Michael K. Johnson (Guest Contributor)
A former slave, Irvin Smith, travelled up the Missouri River and eventually landed in 1880 in White Sulphur Springs, Montana Territory, where he owned and operated a blacksmith shop for twenty years.
Millie Ringold came to frontier Montana after the Civil War as a servant, but soon set off on her own to the town of Yogo, where she discovered a sapphire in a goose that she was preparing for dinner. She quickly staked a claim and became something of a rarity in the American West: an African American woman prospector.
Nat Love wrote an autobiography about his life and adventures as a cowboy. Era Bell Thompson wrote about her experiences as a member of one of the few African American families homesteading in North Dakota, and Oscar Micheaux wrote about his homesteading experience in South Dakota.
When I tell people that my primary research interest is the African American West, the response is usually surprise. Even though African Americans currently live in all areas of the American West, and even though people of African descent have participated in every frontier expansion (from a 1528 Spanish expedition that included the slave Esteban to the Oklahoma land rush), we seem to have trouble including black people in the histories of and the stories we tell about the American West.
When I tell people that I'm particularly interested in the African American West in literature, film, and television, they're really surprised. "You mean, like Blazing Saddles?"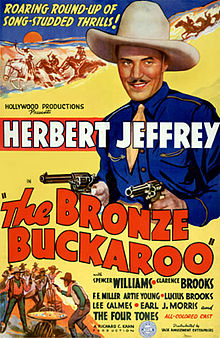 Well, yes, and more recently, Django Unchained, but, as I explore in my book Hoo-Doo Cowboys and Bronze Buckaroos, those two relatively recent films are just a small sample of a wide range of African American westerns and other stories of black life in the West. The birth of African American independent filmmaking took place in the West and emphasized western stories: Noble Johnson's The Realization of of a Negro's Ambitions (1916) and Oscar Micheaux's (based on his memoir) The Homesteader (1919). Throughout the "race film" era (films made specifically for black audiences in segregated theaters), filmmakers often returned to the American West as a setting—culminating in a series of all-black-cast sound westerns featuring Herb Jeffries as singing cowboy Bob Blake (and including films such as The Two-Gun Man from Harlem and The Bronze Buckaroo).
African American characters were frequently featured in the first sound-era westerns of the 1930s, and as westerns came to dominate the television landscape of the 1960s and early 1970s, series westerns such as The Rifleman, Rawhide, Bonanza, and Gunsmoke offered episodes that focused on African American characters (played by stars such as Sammy Davis Jr., Woody Strode, and Louis Gossett Jr.).
And there's a literary tradition of African American writers telling western and frontier stories that stretches from John Marrant's 1785 captivity narrative to Percival Everett's novel Wounded (2005).
Hoo-Doo Cowboys and Bronze Buckaroos takes a journey of discovery into the African American West, exploring the fascinating range of ways black western experience has been imagined, represented, and performed.
Michael K. Johnson is Professor of American literature at the University of Maine at Farmington. He is the author of Black Masculinity and the Frontier Myth in American Literature (University of Oklahoma Press) and Hoo-Doo Cowboys and Bronze Buckaroos: Conceptions of the African American West (University Press of Mississippi).