By Adrienne Mayor (Regular Contributor)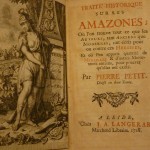 Were Amazons real or imaginary? If warrior women did exist in antiquity, was their society exclusively female? In 1685, the French scholar-physician Pierre Petit (b. 1617) set out to prove the reality of warrior women, known as Amazons. Petit's treatise was published and reprinted in French and Latin, 1685-1718.  I had the good fortune to consult a French edition of "Traité historique sur les Amazones" in the Getty Museum's rare book collection. Petit's subtitle of "Historical Treatise on the Amazons" explains that he "considers all the authors, ancient and modern who have written for or against the existence of these heroines, and presents many ancient coins and artworks as evidence to prove that they did exist."
Petit's approach was practical and rigorous, based on all the literary and archaeological evidence available in the 17th century. He included maps and numerous woodcuts of medals, coins, and statues of Amazons. Some of the medallions he believed to be authentic Greek antiquities were neo-classical fakes, however, especially those showing Amazons with only one breast, something that no ancient artist depicted.
Petit began by gathering all the known Greek and Latin sources describing Amazons. Logic, he declared, requires that the sheer number of ancient reports and images of various warrior women in barbarian lands should be taken seriously. Next he dismissed the idea one must assume that Amazons were a society of women only. It was this false notion, he wrote, that had led people to reject the existence of Amazons. He cited the description by Hippocrates (5th century BC) of steppe nomad women who rode, shot bows, and made war alongside their men. Petit also remarked that contemporary European travelers had observed warlike women in modern cultures.
Petit then addressed the 1st century BC geographer Strabo's skepticism, in which he compared the notion of Amazons to an impossible inversion, in which "men would have to be women and women would become men." But, as Petit pointed out, Strabo's doubts were grounded in biological determinism and arose from what we would call gender bias.
Indeed, Petit's arguments and conclusions are surprisingly modern. "Who can deny," he wrote, "that women have the same nature as men? Since we cannot deny this natural equality, it follows that God endowed both sexes with the same ability to reason and act." Therefore, he concluded, women, like men, are capable of giving counsel, making decisions, governing, and fighting.