By Adrienne Mayor (Regular Contributor)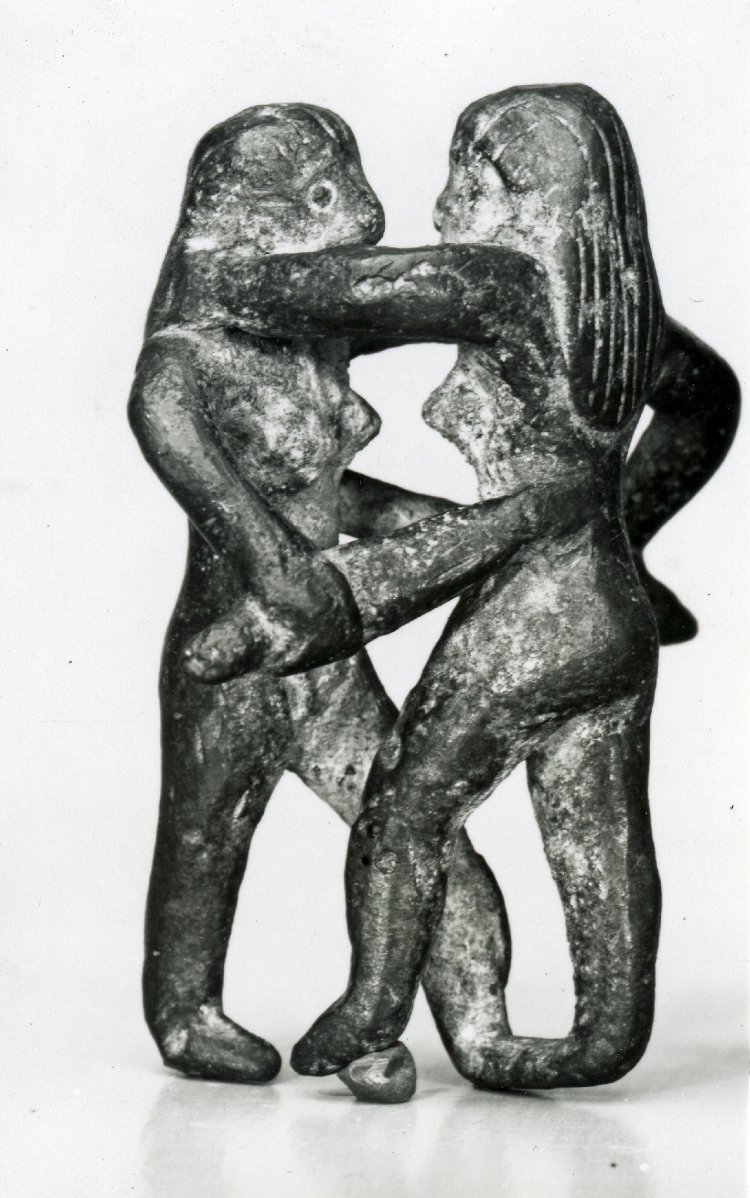 When a Roman senator questioned Julius Caesar's manhood, his unexpected retort was to compare himself to powerful Amazon warrior-queens. A few years earlier, in 61 BC, during his Triumph after the Mithradatic Wars, Pompey had displayed a troop of living Amazons, warrior women he captured in 65 BC in eastern Georgia. Romans were already very familiar with Amazons in ancient Greek literature and art. In Rome one could admire copies of classical Amazon statues from the great temple at Ephesus. Wearing short tunics with one breast undraped, they carry quivers, bows, spears, and crescent shields, and some are wounded. The women's expressions are austere, beautiful, heroic, vulnerable, androgynous.
Many small copies survive of a magnificent Amazon astride a rearing horse by the Greek sculptor Strongylion, plundered from Ephesus by a Roman connoisseur. Her sensuous limbs inspired her nickname in Rome: "Lovely Legs" (from Euknemon, Greek for "beautiful knees"). The emperor Nero developed a crush on this bronze statue and confiscated it from the owner. From then on, Nero insisted that "Lovely Legs" was always carried by porters in his retinue. Nero also surrounded himself with an entourage of "Amazon" concubines with boyish haircuts in Amazon garb and brandishing battle-axes and light shields.
The emperor Commodus was another Amazon fetishist. He renamed the month of December "Amazonius" and sealed his letters with a signet ring depicting an Amazon. His marble portrait bust depicts Commodus dressed up like Hercules with two kneeling Amazons at the base. He called his girlfriend Marcia ("Warlike," after the Roman war god Mars) and outfitted her like an Amazon to fight as a gladiator in the arena. Latin texts describe female gladiators playing the roles of Amazons in re-creations of the mythic duels between Greeks and Amazons in the Trojan War.
An amazing sculpted relief in the British Museum, found in Halicarnassus (Turkey) in 1846, shows a pair of bare-breasted female gladiators with greaves and shields fighting with short swords. The inscription gives their noms de guerre, "Amazon" and "Achillia." We can imagine that these fighters were famous for impersonating Achilles and the Amazon queen Penthesilea. Some suggest that a bronze statuette of a topless female athlete with a bandaged knee depicts a gladiatrix in a victory pose (first century AD). A much older small bronze of two women in close combat (British Museum) from Erythrae (Turkey) is dated to the 6th century BC. In 2010, archaeologists excavating a Roman town in Herefordshire announced the discovery of what appear to be the remains of a female gladiator in an expensive coffin (2nd century AD).
About the author: A Research Scholar in Classics and History of Science, Stanford University. Adrienne Mayor is the author of "The Poison King: Mithradates, Rome's Deadliest Enemy," a nonfiction finalist for the 2009 National Book Award, and "The Amazons: Lives and Legends of Warrior Women across the Ancient World" (2014).