By Maureen Gibbon (Guest Contributor)
My novel Paris Red is a fictional account of the relationship between artist Édouard Manet and his favorite redheaded model, Victorine Meurent, the woman who posed for Olympia and Déjeuner Sur L'Herbe. Since Manet died from the effects of untreated tertiary syphilis when he was fifty-one, it was important to me to understand something about the disease.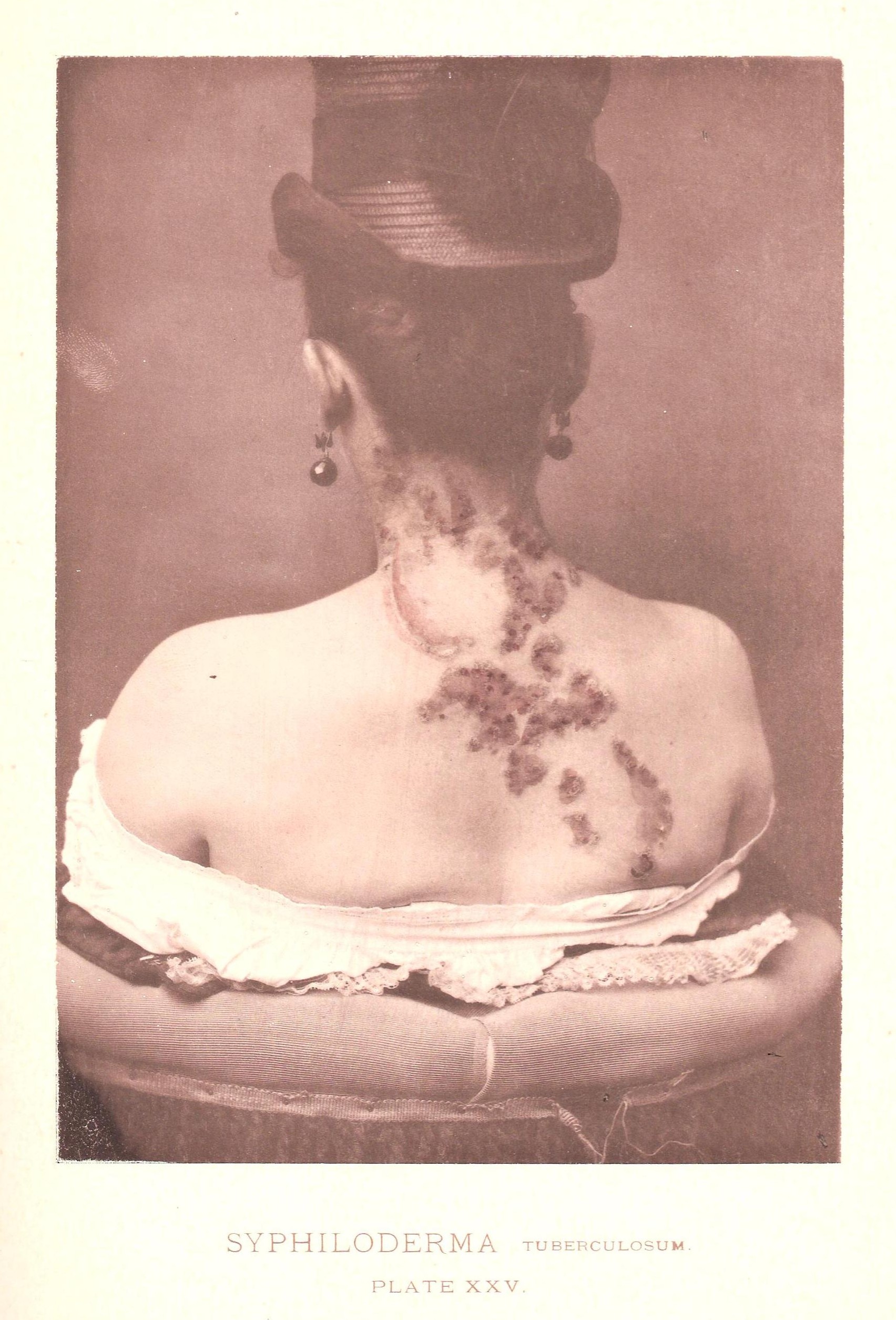 Syphilis was so widespread in the nineteenth century that one French syphilologist estimated 13 percent of Parisians were infected. Odds got better in New York City, where public health records indicate 5 percent of New Yorkers were syphilitic.
Some of the individuals making up that New York statistic may have been patients of Manhattan doctor George Henry Fox and the unwitting stars of his pioneering 1881 book of medical photographs, Photographic Illustrations of Cutaneous Syphilis.
Even though the book features portraits of New Yorkers and not Parisians, it helped me picture the disease that affected Manet. In addition, George Henry Fox had his own Paris connection: in 1872 he studied at l'Hôpital Saint-Louis with Alfred Hardy, editor of the first medical journal to use photographs. Perhaps Fox passed Manet on the street one day.
Back in America, Fox learned to visually diagnose his patients at the Northwestern Dispensary, a medical facility for New Yorkers who could not afford private doctors. He believed so vehemently that photography could aid physicians that he declared, "The study of skin diseases without cases or colored plates is like…the study of geography without the maps."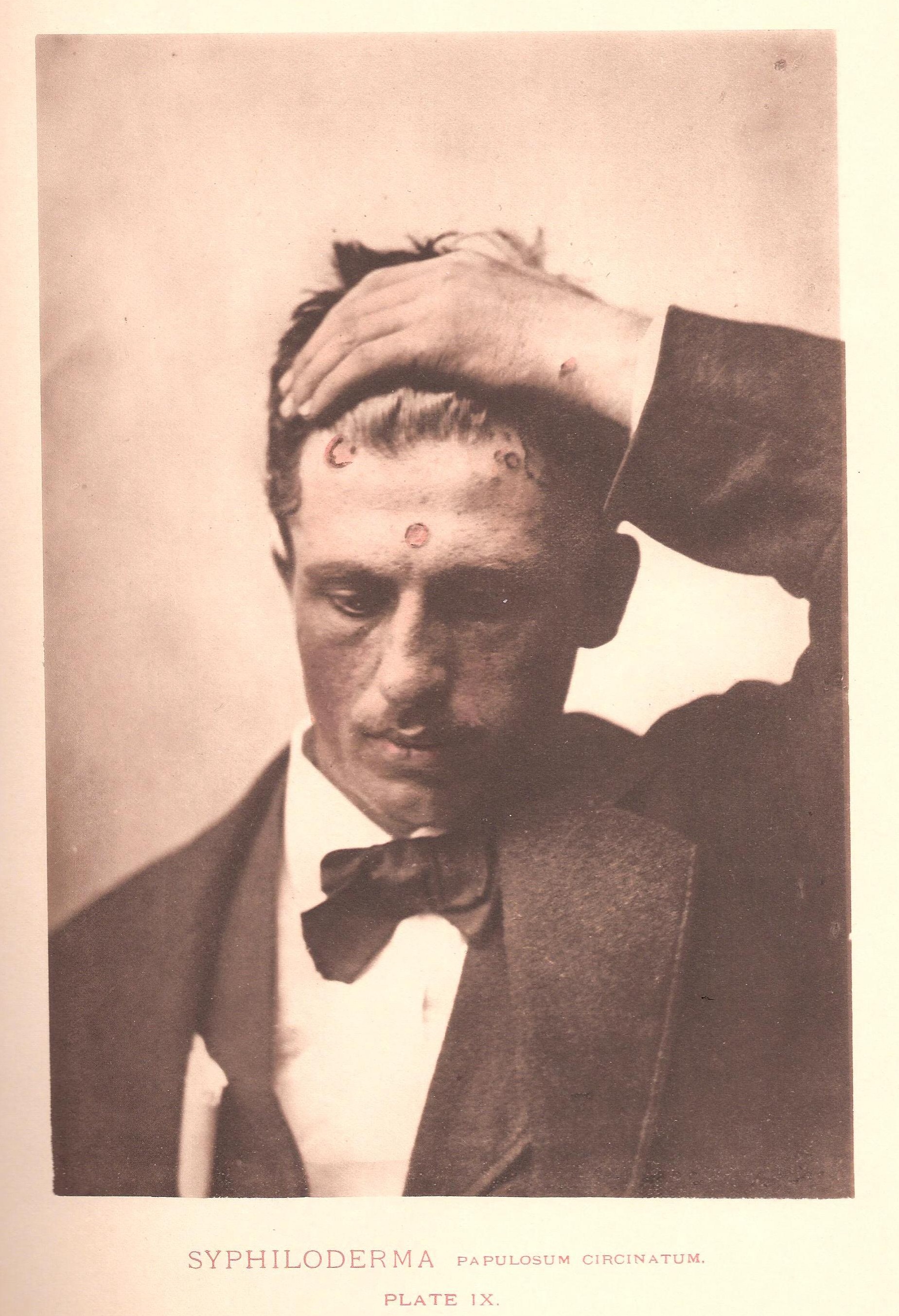 Fox had to rely on commercial photographers like E. K. Hough, who had a studio around the corner at 487 Eighth Avenue, or borrow photos from others involved with medical photography, like Oscar G. Mason, also known as O.G. Mason, the medical photographer at Bellevue Hospital. After amassing a collection of vivid images, Fox decided to display the best at the office of the Medical Journal Association.
That's where publisher E. B. Treat saw the show. Treat invited Fox to put his photographs together for publication in what turned out to be two volumes:  Photographic Illustrations of Skin Diseases, first published in 1880, and Photographic Illustrations of Cutaneous Syphilis, published in 1881. 
Fox was democratic in his beliefs about syphilis, stating that the disease was universal, occurring "in every rank of society, from the prince to the pauper." Yet he probably wasn't treating princes at the Northwestern Dispensary, located at 511 Eighth Avenue. The Northwestern and other New York City dispensaries relied on a combination of city, state and private monies, and they operated so close to their bottom lines that they sometimes ran out of containers for medicine.
In addition to aiding me in my understanding of the disease, I used several photos from Fox's book as inspiration for characters in Paris Red, including the highly perfumed "jasmine woman." Fox helped me see an intimate part of life in the nineteenth century.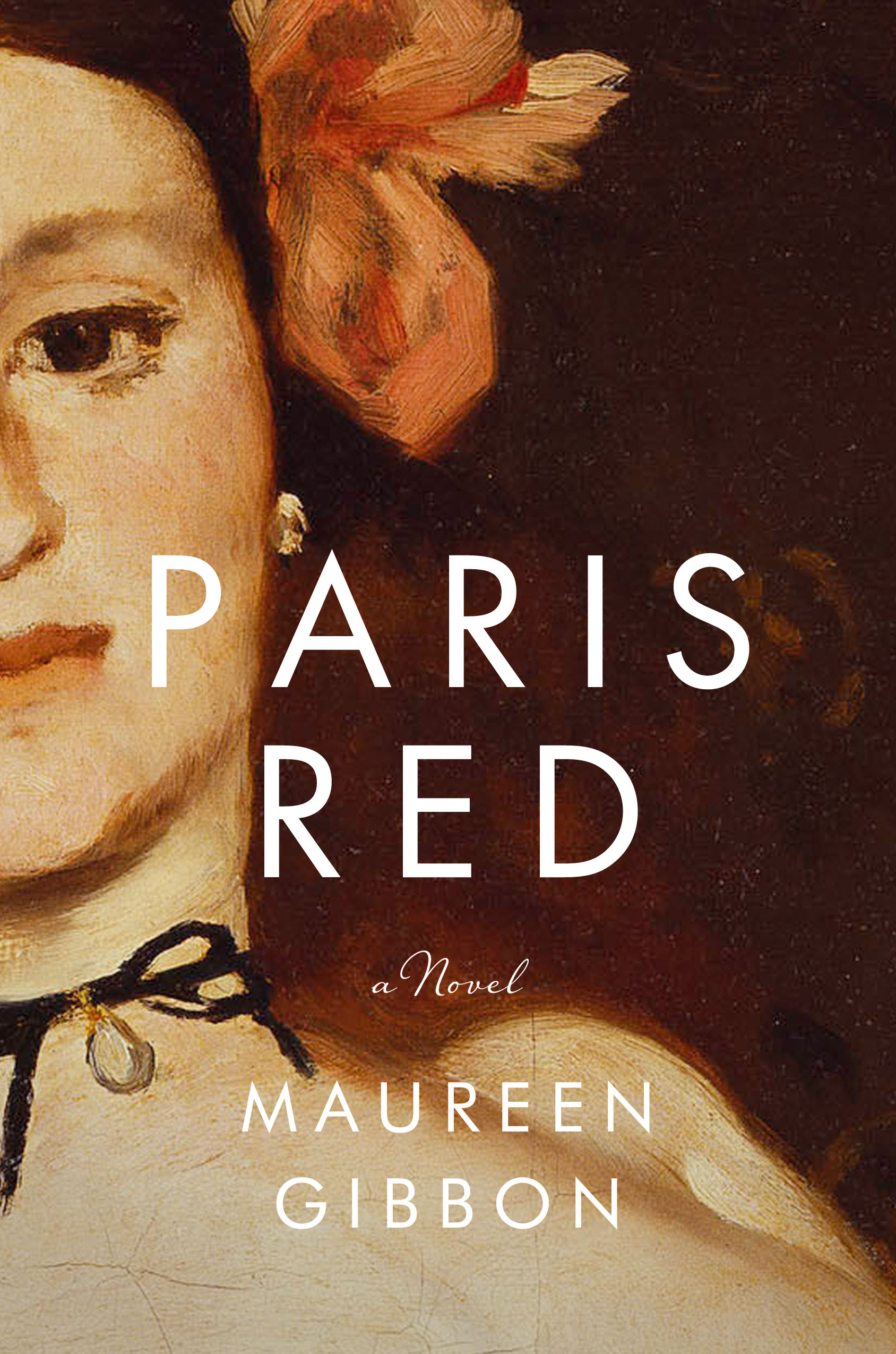 Maureen Gibbon is the author of the novels Paris Red, Thief and Swimming Sweet Arrow. Visit www.maureengibbon.com to learn more.