By Juliet Wagner (Regular Contributor)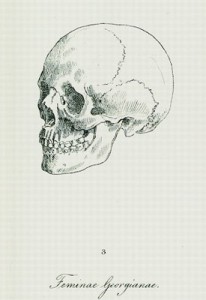 When a form requires that I identify my "ethnicity" and offers a "Caucasian" checkbox, I make a point of checking "Other" (and writing "White", where that option exists). Some pollsters have reacted with confusion at my insistence and pointed out that it means the same thing. Like Romeo, they object: "What's in a name?"
In the case of "Caucasian", quite a lot.
The perfect skull
The term "Caucasian" was first used by Christoph Meiners in 1785, but it was broadly legitimized and popularized by the doctor and early advocate of craniometry, Johan Friedrich Blumenbach (1752-1840). Blumenbach argued firmly that all humans were of the same species (a contested notion at the turn of the nineteenth century), but divided the human species into five main types, based on skin color and on measurements of the skulls in his collection. Although he believed that all five types had the potential for comparable achievement, he did consider the four non-white types to be degenerated forms of white humans. He called the white type "Caucasian" because the most beautiful, symmetrical skull in his collection was that of a Georgian female, from the Southern slope of the Caucasus.
To many champions of scientistic racism in the nineteenth century, Blumenbach's medical anthropology became the foundation for arguments of white supremacy. The term "Caucasian" and the notion of a "pure" origin undergirded the claim to the elevated status of white humans.
Quite aside from the arbitrary association with the Caucasus Mountains, posited in 1795, the historical connotations of the term are fundamentally racist, implicitly associating whiteness with superiority.
Skin-deep
Yet does the origin of the term really matter? Historical background notwithstanding, the meaning of the word has changed in the intervening centuries (my harried pollster might cry). After all, very few people who use the term are aware of its history: today, "Caucasian" is just a synonym for white-skinned. So, why the quibbling?
Here, more recent history is illustrative. Since the 1980s, "Caucasian" has come to be used as a genteel, slightly embarrassed companion to the term "African American." The history of the term "African American" is comparably complex and much more contested, but the term is also frequently used as a euphemism, for all black-skinned people, including those who identify as neither American nor African (as a mistaken characterization of the Dominican baseball player, David Ortiz, for example). Unlike with the term "African American," however, there has never been a claim to a distinct "Caucasian" culture or history (pace Stuff White People Like). In that regard, "Caucasian" betrays the euphemistic nature of the most common use of both terms in bureaucratic contexts, which is as a label of appearance.
Not only does this euphemism mask the superficiality of the category (why not just write "white" or "black" if it is a question about skin color?), but it also endows the category of ethnicity with a false legitimacy. Race is real, but it is fueled by perception, not genetics. Its most substantive consequences have had much more to do with social beliefs than geographical origin (actual or invented, like the Caucasus Mountains).
—-
I first learned about the history of the term "Caucasian" during an undergraduate lecture at the University of Cambridge by the perspicacious and kind Michael O'Brien (1948-2015).
For more on Blumenbach and the history of the word, see:
Nell Irvin Painter, The History of White People (W.W. Norton, 2010)
Raj Bhopal, "The beautiful skull and Blumenbach's errors: the birth of the scientific concept of race" BMJ 2007; 335: 1308