By Caroline Lawrence (Guest Contributor)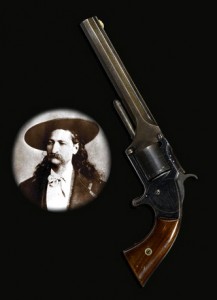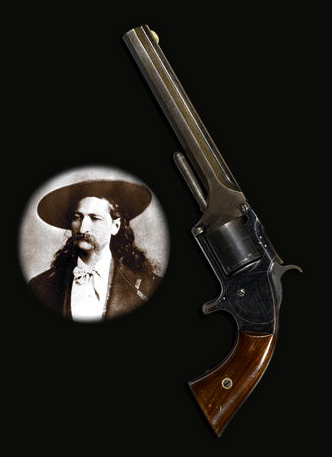 While researching my second Western Mystery for kids, P.K. Pinkerton and the Petrified Man (AKA The Case of the Good-looking Corpse), I discovered a fascinating fact: very few gunfights played out like the iconic Western movie "showdown". Two antagonists rarely faced each other like self-moderating duelists on Main Street, one honorably waiting for the other to "draw". More often one man would "throw down" on another without warning, sometimes even shooting from behind through a window or door.
One night in 1876 in a Deadwood saloon, a famous gunfighter with silky golden locks was shot in the back of the head while playing poker. The shooter, a certain Jack McCall, fled. Hurdy girls screamed and other gamblers recoiled in horror. Wild Bill Hickok, already a legend in his own time, was dead. The reputed inventor of the "fast draw", Hickok usually took a seat in a corner of a saloon or against wall, so nobody could sneak up on him. But on that fatal  night he sat with his back exposed. Perhaps he was feeling tired of life. He was an alcoholic who rubbed mercury on his skin to alleviate the symptoms of venereal disease. This poisonous treatment made him drool and start to lose his sight. According to Deadwood author Pete Dexter, it often took him twenty minutes to empty his bladder.
As Hickok slumped onto the table, the five cards in his hand fell on the floor, spattered with drops of blood. Legend has it that he held two pair – black aces and a pair of black eights – that would later come to be know as the 'Dead Man's Hand'. He did not even have time to reach for his own weapon.
That weapon was an old-fashioned revolver – a Smith & Wesson number two six-shooter – which had first gone into production more than fifteen years before. Unlike fiddly cap and ball revolvers, which required the user to combine the ingredients for a bullet in each chamber of the cylinder, the Smith & Wesson had powder, ball and charge encased in a single cartridge. Protected by this rimfire "bullet", the powder would never grow damp, the ball would never fall out and the charge would never misfire. You could just put a new cartridge into the cylinder. You could even pop out an entire used cylinder and put in a new one with six cartridges pre-loaded in.
In Roughing It, Mark Twain's account of his days in the Wild West, he describes his own pistol. "I was armed to the teeth with a pitiful little Smith & Wesson's seven-shooter," he writes,  "which carried a ball like a homoeopathic pill, and it took the whole seven to make a dose for an adult." The Smith & Wesson Number 1 took seven .22 caliber cartridges. The new improved Number 2 took six cartridges rather than seven, and they each held a bigger .32 caliber ball, (i.e. the diameter of the ball was about a third of an inch.) Like the Number 1, the Number 2 had a spur trigger which only popped out when you cocked it. This new improved second-edition was so popular that Smith & Wesson had to stop taking orders at one point of production until they could catch up with demand.
Hickok's Smith & Wesson Number 2 had a pretty rosewood grip and blued steel barrel. Sheriff Seth Bullock took it from Hickok's cooling body and sold it to help pay off the gunfighter's debts. It then passed from one generation to the next, one of the best documented firearms ever to go on sale.
Yes, on Monday 18 November 2013 this famous revolver will go up for auction in San Francisco, and is expected to fetch as much as half a million dollars… maybe more.
Until then it will be on show along with other early pistols and items of armour at Bonham's auction house on 220 San Bruno Avenue in the Mission District. Viewing is free to the public and starts at high noon on Friday 15 November. If you are in San Francisco, come along and have a look at a famous piece of Western history. I might see you there!
[Update on Tues 19 November 2013: The famous revolver failed to meet the reserve price and bidding stalled at $220,000… so you might have another chance to see it.]
Caroline Lawrence is a children's author who won the Classical Association Prize for her Roman Mysteries series. In 2011 Caroline launched a second historical detective series, the Western Mysteries, staring P.K. Pinkerton: a 12-year-old doubly orphaned detective.
This post first appeared on Wonders & Marvels in November 2013.