By Jack El-Hai, Wonders & Marvels contributor
It's safe to bet that if you're a Wonders & Marvels visitor, you love reading and may have a sizeable book collection. But how does your fondness for books stack up against the obsessive hoarding of one of history's most formidable bibliomaniacs, Richard Heber?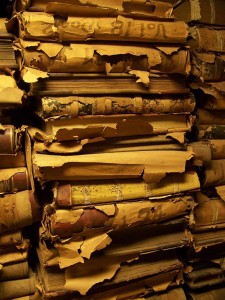 Heber, born in London in 1773 or 1774 into the family of a wealthy clergyman, was already a longtime habitué of bookshops and auctions by the time he enrolled at Brasenose College, Oxford. Despite his family's efforts to curb his habit, Heber's book purchases spiraled him into debt and filled his rooms with old and rare volumes. Unlike some sufferers of bibliomania, Heber actually did read some of the books he compulsively acquired, and he built a middling reputation as a scholar of English and classical literature.
After his father died and left Heber a fortune, all financial fetters were gone. "It seemed as if he wanted to own every book that ever was, and not just one copy of each," John Michell wrote in Eccentric Lives and Peculiar Notions. "He used to say that every gentleman needed at least three copies of a book, one for his country house library, one for reading, and one to lend to friends." His acquaintances characterized his hunger for books as insatiable and compared his lust for printed material to the yearnings of drunkards and opium addicts. In an era of difficult travel, Heber would journey hundreds of miles for a book he had targeted, and he sometimes bought books several thousand at a time. Only once did he contemplate marriage, and he and the woman he courted regarded the union primarily as a merger of book collections. In the end, Heber stayed single and their libraries remained separate.
In 1833, Heber died a recluse in the London house where he kept much of his gigantic collection hidden from the eyes of others. (One of his final acts had been to place an order with a bookseller.) When news spread of Heber's death, a chronicler of bibliomania named Thomas Frognall Dibdin rushed to the house to view the legendary stash. "I had never seen rooms, cupboards, passages, and corridors, so choked, so suffocated, with books…. Up to the very ceiling the piles of volumes extended; while the floor was strewn with them," Dibdin wrote. And Heber had jammed his seven other residences across Europe with uncountable additional books.
Years earlier, Heber's book fixation had inspired the Scottish physician and poet John Ferriar to write and publish a long set of verses, titled The Bibliomania. It begins by questioning
What wild desires, what restless torments seize
The hapless man, who feels the book-disease,…
Heber undoubtedly had multiple copies of Ferriar's book in his collection.
Further reading
Dibdin, Thomas Frognall. Bibliomania: or Book-Madness, a Bibliographical Romance. Henry G. Bohn, publisher, 1842.
Michell, John. Eccentric Lives and Peculiar Notions. Black Dog & Leventhal Publishers, 2002.