by Adrienne Mayor (Regular Contributor)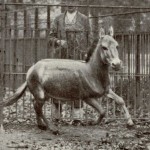 Neo-Assyrian records of the eighth century BC name several queens who ruled Qedar, a confederation of nomadic Arab and Semitic tribes that ranged from the Syrian desert to the Nile. The Qedarites were also mentioned in the Old Testament and by Greek and Roman writers.
Zabibi (her name means "raisin") was "Sarrat qur Aribi" (Queen of the Arabs") from 738-733 BC. Some have suggested that she was part of a dynasty of female rulers that included the Queen of Sheba, the mysterious queen who met King Solomon in the Old Testament. Zabibi ruled as a vassal who paid tribute to the Assyrian king Tiglath Pileser III. Her successor was Samsi (Arabic, "sun").
Queen Samsi made an alliance with Rakhianu, ruler of Damascus, and together they led a rebellion against Tiglath Pileser III in 732 BC. Arabian warriors, male and female rode horses and used bows and javelins. The decisive battle took place on the plain below Mount Sa-qu-ur-ri (site unknown) and Samsi's army was defeated. According to Assyrian archives, Queen Samsi "fled into the desert like a wild she-ass."
The Assyrian comparison was apt. The Syrian hemippe, an extinct species of small (about 3 feet at the shoulder) but very strong and swift onager that was once common in herds across the nomad territories of Syria, Israel, Jordan, Saudi Arabia and Iran. The Syrian onagers were dark and tawny in summer and pale sand-colored in winter. Considered as beautiful as thoroughbred horses the asses were notoriously elusive and impossible to tame or domesticate. The last two wild Syrian onagers both died in 1927: one was shot in Jordan and the other died a captive in a zoo in Vienna.
Samsi surrendered and negotiated an agreement with Tiglath Pileser that allowed her to remain queen of the Qedar until 728 BC. She was succeeded by Queen Yatie.
Yatie joined the coalition of Chaldeans, Elamites, and Aramaeans to fight the Assyrian king Sennacherib in 703 BC for control of Babylon. Her successor was Te'el-hunu. Nothing is known of her except her name. The Qedarites also disappear from the historical record by the first century AD.
About the author: A Research Scholar in Classics and History of Science, Stanford University. Adrienne Mayor is the author of The Poison King: Mithradates, Rome's Deadliest Enemy, a nonfiction finalist for the 2009 National Book Award, and The Amazons: Lives and Legends of Warrior Women across the Ancient World (2014).