By Adrienne Mayor (Regular Contributor)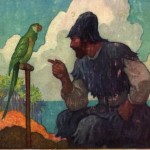 After two years alone on his desert island, and twenty years before he would meet Man Friday, a voice jolted Robinson Crusoe from a nap. Someone was calling out "Robin, Robin, Robin Crusoe! Poor Robin Crusoe! How did you come here? Where have you been? Why are you here?"
The startled sailor finally discovered the owner of the voice. It was Poll, his own pet parrot, who had disappeared after the shipwreck that stranded Crusoe on a remote tropical island. The parrot was repeating Robinson Crusoe's own solitary lamentations.
The parrot and the lonely sailor were overjoyed to be reunited. Poll provided Crusoe with his only company until Man Friday appeared two decades later.
Daniel Defoe's realistic novel of 1719, originally titled The Life and Strange Surprizing Adventures of Robinson Crusoe, Of York, Mariner: Who lived Eight and Twenty Years, all alone in an un-inhabited Island on the Coast of America, near the Mouth of the Great River of Oroonoque; Having been cast on Shore by Shipwreck, wherein all the Men perished but himself. With An Account how he was at last as strangely deliver'd by Pyrates, was probably partly influenced by Alexander Selkirk, a Scottish sailor who had been marooned for four years on a Pacific island off the coast of Chile. Some of the naturalistic details of Crusoe's  "Island of Despair" were likely based on Tobago in the Caribbean near the mouth of the Orinoco River in Venezuela.
Crusoe tamed two other parrots "native to the Brazils" and taught them to talk. There is no telling what sort of talking birds they were, since there are more than 70 species of Brazilian parrots, parakeets, and macaws. The pair never equaled Poll's conversations but at least there were now four voices on the desert island. Crusoe was deeply grateful for Poll's company, remarking that his old shipmate "spoke so familiarly and so articulately that it was very pleasant to me."
Adrienne Mayor is a research scholar in Classics and History of Science, Stanford University, and the author of The Poison King: Mithradates, Rome's Deadliest Enemy, a nonfiction finalist for the 2009 National Book Award, and The Amazons: Lives and Legends of Warrior Women across the Ancient World (2014).