By Michelle Moran (Guest Contributor)
Delving into my characters' lives by traveling to the places they visited and lived is one of the most rewarding aspects of writing historical fiction. For each of my books I've been lucky enough to be able to travel to the locations where my protagonists spent their lives. In some cases, little remains of where they lived. But in others, the monuments they built are still in existence. In the case of Sita, the narrator of my sixth book, Rebel Queen, the locations I visited while in India were incredibly varied.
Unlike most women in the queen's Durga Dal, an elite group of female guards hired to protect the Queen of Jhansi, Sita wasn't born in a city. She was born in a village. Anyone who has visited a village in India knows that not much has changed in the hundred plus years since Sita's birth.When I first arrived in my husband's ancestral village of Itaara, it was like stepping back in time. The roads were unpaved, the houses made of both mud and brick, and the streets were lined with temporary shrines, each one tenderly fashioned from cow dung to honor the local gods. The women there covered their heads with scarves, called dupattas in Hindi, and when I fell violently ill after eating food cooked in the house we were visiting, I was told it was because one of the villagers had given me the evil eye.
Yes, there were satellite dishes protruding from the brightly painted walls of the houses, but inside, life wasn't much different from the life Sita experienced. The villagers still slept on charpai, beds made of tightly woven rope (and the origin of the expression, sleep tight). And cow dung was still used to fuel fires. Contrast this with the life Sita experienced when she first became a member of the queen's Durga Dal and you can see how varied research trips can be when trying to piece together a character's world.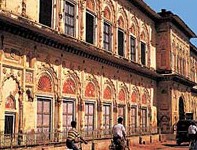 It's impossible to know what Sita felt when she arrived in the city of Jhansi in order to become one of Rani Lakshmi's guards, but she probably would have been as impressed as I was passing through gates built to accommodate the maharaja's elephants. Although Jhansi's former glory has been diminished by war and neglect, you can still see Rani Lakshmi's palace today and visit the queen's audience chamber where the most famous woman in India once held court. Her numerous temples, courtyards, and stables have been preserved, even her elaborately painted halls punctuated by windows that were covered in the summer with fragrant kusha grass.
Coming from a village where her bed was made of rope and her only experience with bathing was a bucket, Sita would have been overwhelmed by the rani's elaborate furniture and vast baths. From the exquisite gold jewelry to the stunning silk saris which even the queen's guards were expected to wear, everything would have appeared dazzling to her.
It's always fascinating to write about a character whose life changes radically. Sita's transition from a village girl to a palace guard was great fun to research, and I hope readers will enjoy reading about it as much as I enjoyed writing it!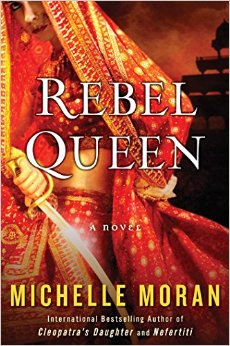 Michelle Moran is the international bestselling author of six historical novels, including Madame Tussaud, and her newest Rebel Queen.