by Adrienne Mayor (regular contributor)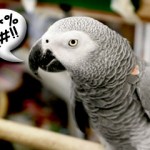 A great many exotic birds flocked to London in the seventeenth century, imported by the East India Company, retired sea captains, and sailors. The first mynah bird to reach England was a gift from the Company to the Duke of York in 1664. The Bengal mynah knew phrases in English and could neigh like a horse. Fashionable Londoners loved to stroll along Birdcage Walk in St James Park to admire the aviaries of hundreds of beautiful birds donated by the Company during the reign of Charles II.
Charles II, however, preferred to keep a tame British starling with an impressive vocabulary in his bedchamber. Samuel Pepys, the great diarist of the British aristocracy in the 1660s, later acquired the royal starling. Pepys exclaimed in his journal that "the king's starling doth talk and whistle finely, which I am mighty proud of."
Pepys also enjoyed his bevy of canaries, given to him by a sea captain, while his wife loved her garrulous parrot. "For talking and singing," marveled Pepys, "I never heard the like!" Pepys was amazed when his neighbor's parrot immediately recognized a new servant named Mingo, whom he'd known from a previous household. Pepys also described a bad-tempered parrot that almost pecked out the eye of a different friend.
Yet another parrot of Pepys' acquaintance belonged to Lord Batten who "hath brought it from the sea." Batten's parrot often entertained guests at dinner parties. When Pepys visited the parrot was well behaved: "It speaks very well and cries Poll so pleasantly," wrote Pepys. But Lady Batten and her mother detested Poll. It seems that Poll's seafaring days had influenced its vocabulary in a vulgar manner–a typical problem with talking birds in general.
A similar case was described by Reverend Samuel Wesley of Epworth Rectory. This parrot lived in Billingsgate, the crowded, noisy street of fish markets frequented by sailors and fishermen notorious for their foul language. The parrot naturally developed a vast vocabulary of filthy phrases, cheerfully squawking out offensive insults and dirty slang to passersby. The owners, hoping to reform the bird, sent the him away to live in a genteel tea room across town. In less than a year the parrot's bawdy expressions were replaced with inoffensive tea room chatter, along the lines of "What's new?" and "Please bring another cup of coffee."
Thus converted, the parrot was allowed to return home to Billingsgate. "But within a week," the minister reported, "it had got all its wicked cursings and swearings down as pat as ever."
Another cursing parrot appeared in a poem by George Crabbe (1809). In this tragic tale, a parrot lost his mistress's favor and his life when he "was heard to speak / such frightful words as tinged his lady's cheek." The parrot, now stuffed, was replaced by a "clipped French puppy."
At Andrew Jackson's funeral in 1845, his pet parrot was hustled out for cussing. Then in New York City in 1938 a seafaring parrot named Popeye caused an uproar during a radio contest for talking birds. Some 1,200 contestants were judged on vocabulary, diction, and originality of expression. Entrants included an Italian fruit vendor's African grey parrot who called out fruits in English; a 90-year-old Boston parrot who recited the Lord's Prayer; and an Omaha parrot named Theodore Metcalf who barked, mewed, groaned, and gurgled. Popeye, who was sponsored by the NY Seaman's Church Institute, was immediately disqualified for his salty vocabulary–despite his excellent diction and originality.
About the author: A research scholar in Classics and History of Science, Stanford University, Adrienne Mayor is the author of The Poison King: Mithradates, Rome's Deadliest Enemy, a nonfiction finalist for the 2009 National Book Award, and The Amazons: Lives and Legends of Warrior Women across the Ancient World (2014).