By Seth Koven (Guest Contributor)
The "lives of the obscure," Virginia Woolf lamented, had a way of dissolving into the "fine mistlike substance of countless lives."[i] Woolf may have demanded histories of watercress and flower girls and yet this task she conspicuously never undertook. The Match Girl and the Heiress accepts Woolf's challenge. It chronicles the remarkable partnership of Nellie Dowell (1876-1923), a half-orphaned Cockney match factory worker and Muriel Lester (1883-1968), the daughter of a wealthy ship builder and world-renowned pacifist humanitarian. In loving one another, these unlikely soul mates sought to inaugurate a Christian revolution on earth founded upon living by the precepts of the Sermon on the Mount. The bricks and mortar incarnation of their friendship was Kingsley Hall "people's house," Gandhi's London slum home in 1931.
I stumbled upon Nellie Dowell the very first day I traveled to Kingsley Hall's Dagenham branch. There, I found a wrinkled manila envelope on which Muriel, in the unsteady hand of great old age, had written the word "Nell" and self-archived her friend's witty tender letters to her. Full of chatty details about nephews and sisters, humorous asides about clutching a volume of Tolstoy as German "Zeps" darkened the wartime sky, and her longing for Muriel, Nellie's letters mystified and delighted me.
By the time Muriel reread Nellie's letters for the last time and put them back into their envelope, Nellie had been dead for decades. And Muriel had long since become a grande dame of social justice pacifism. Her life story had apotheosized into the stuff of Sunday school curricula. Muriel Lester Houses and Groups dotted the post-WWII American landscape. This only deepened my curiosity. Why did Nellie write these letters and why had Muriel cherished and preserved them?
To answer these seemingly small questions about Nellie and Muriel's entwined lives led me to write a big book about rather large historical questions. Nellie's confinement in late-Victorian England's most notorious barrack school orphanage at Forest Gate brought me face to face with what it might mean for a child to not have a childhood. I found myself writing a history of global capitalism at the dawn of the new century as I retraced Nellie's mobile proletarian life as a match factory worker from the London slums to the shimmering hillsides of Wellington, New Zealand to Sweden and back again to London. The letters beckoned me into forgotten worlds of Christian revolutionaries and pacifist feminists, of poor law orphans in their soul-deadening blue serge uniforms and fierce match factory girls on strike for fair wages and a safe workplace.
But above all, these loving letters prompted me to think about the elasticity and power of love to change the world. At the root of this friendship was a radical reinterpretation of God not as an angry punishing Father but as devoted reconciling friend. These letters beckoned me to explore the intimate inner life of Muriel and Nellie's project to use Jesus's love – and their own — to build a New Jerusalem in the heart of a London slum free from the deforming hierarchies of class, sex, race and nation. That they often failed to achieve these utopian goals even in their own everyday lives – and that they knew and accepted their own and humanity's imperfections – must be counted among this book's most important lessons. The Match Girl and the Heiress is my story about theirs.
[i] Virginia Woolf, "Lives of the Obscure," in The Common Reader, First Series (London, 1925).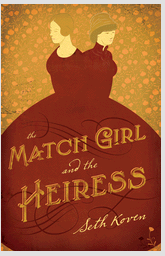 Seth Koven is Associate Professor of History at Rutgers University and the author of the recently published The Match Girl and the Heiress and Slumming: Social and Sexual Politics in Victorian London (2004).