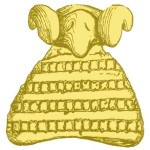 by Adrienne Mayor
The origins of the oral traditions about the voyage of  Jason and the Argonauts across the Black Sea to the land of golden treasure (ancient Colchis, modern Georgia) are uncertain. The tale evolved into an epic poem sometime before Homer (8th century BC). While the epic sailing expedition to find the Golden Fleece is an imaginary adventure set in the Bronze Age and features several magic and other mythic episodes, the story also contains many nuggets of historical, ethnographic, geographic, and natural realities. Greek travelers reached the far shores of the Black Sea at a very early date, since names from the languages of Colchis and the Caucasus are preserved in archaic Greek myths and appear in inscriptions on ancient Greek artifacts. For example, Apsyrtos, Medea's brother, has an Abkhazian name, and Circe, the seductive sorceress in Homer's Odyssey) means "The Circassian."

WHAT WAS THE GOLDEN FLEECE?
The Golden Fleece sought by the Argonauts has been taken by scholars to merely symbolize the wealth of Colchis. But the true identity of the Golden Fleece was already recognized in antiquity, by the the natural historian Pliny. The meaning of the Golden Fleece was also understood by the geographer Strabo, a native of Pontus who had probably traveled to neighboring Colchis.
Appian (Roman historian born ca. AD 95), gives the fullest explanation of the local tradition that explains the Golden Fleece. People of western Colchis (Svaneti) submerged ram's fleece in streams and rivers to collect gold grains and flakes carried down from the mountains. This ancient technique is still used by local mountain villagers in Svaneti. It is plausible that it was employed in the Bronze Age. Geologists today report that gold is still suspended in rivers of western Colchis. The fact that gold adheres to the fleece would have been discovered serendipitously when people washed new lambskins in rushing streams that contained plentiful gold flakes.
When Greek adventurers sailed to Colchis and reported on its golden treasures in archaic times, they may have repeated vague rumors about the mysterious "Golden Fleece," as something unknown associated with the fabulous gold treasures of Colchis. Later Greek travelers heard explanations of the technique and then observed it firsthand.
By the 7th century BC, Greeks had established trade colonies along the coast of Colchis in order to obtain the famous Scythian and Caucasian gold. Archaic Greeks were fascinated by the romance and mystery of "golden fleece" before they understood the technology.
This fleece technique was mystery to the Greeks because it only works in certain geographic/geological conditions, where rivers and streams are laden with gold sand eroding from high mountains bearing igneous rock with rich veins of gold. In the famous Scythian gold fields of the Central Asian deserts, for example, Bronze Age prospectors could not use the fleece method; they sifted sand for placer gold, brought down by erosion into dry gullies along the silk route below from the Altai ("gold") Mountains.
GOLDEN FLEECE ARTIFACT
Among the small gold and bronze artifacts of rams of Colchis are what scholars describe as a curious "ram-bird" figurine (see image above), supposedly combining a ram's head with a bird's tail. But it seems obvious that this figure is not meant to depict a hybrid ram-bird. Instead it resembles a ram's hide with the head attached, a common way to display and identify hides (think bearskin rugs with head attached). The texture on the hide indicates gold particles. The so-called ram-bird figurines likely represent the Golden Fleece.
About the author: A Research Scholar in Classics and History of Science, Stanford University. Adrienne Mayor is the author of  "The Poison King: Mithradates, Rome's Deadliest Enemy," a nonfiction finalist for the 2009 National Book Award, and "The Amazons: Lives and Legends of Warrior Women across the Ancient World" (2014).