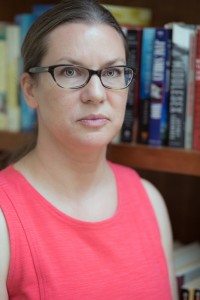 An Interview with Sarah Werner (Guest Contributor)
Wonders & Marvels: At what age did you really become interested in history? At what point did you begin writing about it?
Sarah Werner: It's funny—up until recently, I never really categorized what I was interested in as history. But a lot of the literature I loved was from the past. It was reading Paradise Lost as a first-year college student that started me on the path to being an early modernist, and when I lived in London as a graduate student, it was devouring Victorian novels that helped me make sense of the city. It's a little odd, I suppose, that my interest in the historical London led me to reading novels rather than any of the histories written about the city. But for me, Mrs Gaskell's accounts of the tensions between northern and southern England is more engaging and gives me a view into the shifting identities of the nineteenth century than reading straight history would. All this shows why I got my PhD in English, not history!
Similarly, I never really thought about what I write as being about history up until very recently. In 2009, I had the delightful honor of being awarded the (now defunct) Cliopatria prize for best new history blog. But even as I was delighted, I was taken aback by the idea that what I was writing qualified for a history award. I was writing about books, not history! Even now, while I do identify with being a book historian, somehow I think of that as being different from being a historian. It's not a disdain of history of my part that stops me from identifying more fully as a historian, but a respect for the discipline. Thinking as a historian is different than thinking as a literature scholar, it seems to me. The question of whether someone who is not a historian can write about history is, of course, a different matter: history is not the purview solely of historians, although anyone who writes about the past would be well served by reading up on the work of historians as they do so!
W&M: When it comes to your own writing projects, what are the benefits and challenges of working at the Folger?
Sarah Werner: There are so many benefits to being a staff member at the Folger for the sort of work I'm interested in. If I'm confused about the varieties and uses of 17th-century almanacs, I can call up examples from the vaults and look at them myself. Not sure about how the mise-en-page of incunable bibles might have reflected and shaped reading practices? Take a look at a few! And there's the huge range of my colleagues' expertise that I can draw from. If I've a question about the paper used in manuscripts, I can pop down and ask Heather Wolfe, the Curator of Manuscripts. If I'm not sure how to describe a physical characteristic in a book I'm looking at, there's a whole room of catalogers I can chat with.
The challenge is that most of my work takes the form of administrative projects, and so there's not nearly enough time to be able to go into the reading rooms and work with rare materials. Unlike for many standing faculty, being an active scholar is not part of my job description, and while there is certainly no stigma to pursuing research projects, there's also only limited support for such work. It's something I do in addition to my job, not as part of my job, but research is something I was trained to think of as part of my life. And so it can be frustrating when I see friends and colleagues in the Library on fellowships and sabbaticals and to know that I don't have access to the same research funds and leave. The Folger does provide for the possibility of 3-month sabbaticals every 4 years and up to 4 weeks of annual research leave, and that's certainly more than many other libraries allow. But both of my jobs at the Library have been one-woman shows, and there's not funds provided for leave replacements—if I want to take a sabbatical, everything I'm responsible for grinds to a halt, and it's not always easy to work out how to make that possible. Still, it's a lot easier for me to sneak in small chunks of time than it can be for folks who do not work on the premises of a special collection and there are many, many jobs out there that do not include active research as part of their descriptions.
W&M: Can you tell us a bit about your writing space or your writing process? (i.e. what are the necessary components of a successful writing or research day)
Sarah Werner: A successful writing day for me is when I discover something that I really need to say. I don't necessarily need to finish saying it that day—just the discovery of the motivation and the start of fleshing it out can be enough. I've not worked out what the difference is that makes me think "I need to tell someone this" rather than the less inspiring "This is interesting." The former gets me writing, the latter makes me tuck the idea away. Sometimes ideas I tuck away come back and turn into impetus; if it's something for The Collation or for my handbook, I'll often note the idea (I find Workflowy perfect for this) in the hopes that it'll eventually turn into something. The prompt of finding something cool and wanting to share it is a typical impetus for me, although sometimes I get a bee in my bonnet about something and that's what drives me.
Writing space certainly matters. I can write in my office at the Folger, but not well—it's slow and there are too many distractions. My desk at home is more my style. There I'm surrounded by books and objects I love and that helps give me the confidence to write. I keep my childhood books on a shelf in front of me, as well as a collection of old cameras that used to be my father's, my youngest child's former favorite stuffed animal, loads of photos, and a growing collection of books that are interesting physical objects. All of that lifts me up. And since writing does not always come easily, that buoying of spirits really helps!
W&M: What is the most unexpected thing you've learned as a writer? (about yourself, about writing and research, or even just a cool find from the archives).
Sarah Werner:Most of the writing I do these days is blogging—and the best thing about that is that it's let me rediscover how much I love writing. When I was growing up, I was scribbling all the time: poetry, my journals, letters. And then the more academic writing I started to do, the less I connected with it. I took a lot of satisfaction from it, but it didn't experience it as joyfully as I used to. And now, with blogging, I've remembered that writing can be fun. I'm hoping that some of that fun can rub off on the non-blogging writing projects I have in front of me. I think it will!
Sarah Werner is Digital Media Strategist at the Folger Shakespeare Library. Most of her history writing can be found either on her personal blog, Wynken de Worde (http://sarahwerner.net/blog), or on the blog she founded and runs for the Folger, The Collation (http://collation.folger.edu). She is also the author of Shakespeare and Feminist Performance and is currently writing a handbook on early modern printing practices.